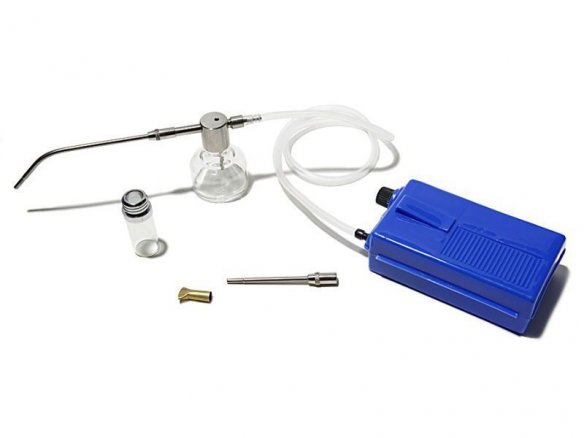 electric, dry atomisation nozzle made of stainless steel, comes with one round and one cylindrical glass container including rubber seal, membrane pump (plastic housing with band clip), 1 speed, 1.5 V, air hose l = 70 cm (attention! upon delivery it is stored in the housing!), 1 metal nozzle that is short and flat, 1 metal nozzle with a bend, 1 wide metal nozzle, instructions for use incl., comes without batteries
Using an air brush is an excellent alternative to applying POWDER GOLD/SILVER by hand, especially when working on larger areas, because its efficient delivery of material will save you a lot of gold in the process. The electric air brush that we have on offer has another advantage over working by hand: only one hand is necessary when using it thereby leaving the other hand free to do other things like, for example, holding the object to be sprayed. Yet another advantage of the electrical air brush is that the stream of air is absolutely even and therefore able to guarantee a uniform application. Objects with extreme textures and areas with recesses and hollows or difficult to reach places can be easily gilded in gold or silver by using the air brush.
The smaller of the two glass containers is for the powder gold while the larger is better suited for powder silver because silver has a larger volume.
You can only use the air brush when working with powder gold/silver if you use it in combination with UNDERCOAT FOR POWDER GOLD/SILVER and ADHESIVE COAT FOR POWDER GOLD/SILVER.
If pigments are to be applied with the air brush, a DUST/PARTICLE MASK should definitely be worn because, especially in the case of metal gloss pigments, serious damage to your health could otherwise result. Powder gold/silver in and of itself is not hazardous to health. We nonetheless recommend that you use a mask when applying it because inhaling fine particles of any kind should be avoided as a general rule.
The accompanying set of instructions supplies more practical tips for working with the air brush.
Two 1.5 V batteries, which are not included, are required to run the air brush.
Air brush machine for powder gold/silver, battery-powered (2 x 1.5 V)
Note
When atomising powder gold, powder silver and metal pigments, a DUST/PARTICULATE MASK must be worn. Metal pigments (not in Modulor´s product line) are highly noxious and as a result are classed as dangerous goods. Breathing in only a small amount can already lead to a very unpleasant zinc sickness that is harmful to health. If you nonetheless do work with metal pigments, be absolutely sure that you have read the relevant safety data.

Neither powder gold nor powder silver are noxious – breathing in the extremely fine powder should nonetheless be avoided (particulate matter!).