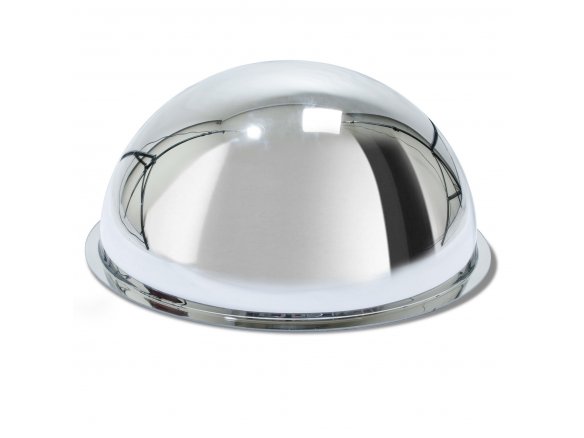 acrylic glass, colourless, glossy, with approx. 20 mm brim all the way around (milled), without protective film, given thickness is that of the source material
A convex, outwards curving mirror reflects the actual size as smaller but has a wider view angle as a result, similar to a wide angle lens in photography. If we stay with this comparison, then we can say that what we have is an extremely wide angle, a kind of fish-eye lens when it comes to the reflecting surface with its 180-degree viewing angle. Convex mirrors are often set up at street crossings where visibility is limited in order to prevent accidents, mirrored hemispheres hang from the ceilings of stores in order to enable a viewer to see around the corner of difficult to access shelves or niches for the purpose of catching shoplifters. Beyond those uses, a mirrored hemisphere is a versatile decoration element that can be placed on a wall, ceiling or counter.
These mirrored acrylic glass hemispheres are the same as the transparent, absolutely streak-free hemisphere made of the same material that we have in our product range – the difference, however, is that these have an added coat of brilliantly reflecting paint applied to their inner surface. This coat is then covered by another opaque one in order to protect the mirrored one from mechanical damage. At first, second and third glance you cannot tell that the actual mirror coating is on the inner surface of the sphere – just like a normal mirror. And the reflecting quality of the hemisphere is indeed comparable to that of a normal mirror except that we are dealing with a concave mirror that makes everything smaller and provides a semi-panoramic view.
Like the basic transparent acrylic glass hemispheres, these, too, are free blown; their actual shape only really approximates that of a pure hemisphere (their height is somewhat less than half of their diameter). That fact will really become obvious if you try to join two of them in order to make a whole sphere.
The wall thickness of the sphere is not uniform as a result of its being formed thermally. The brim has the original given thickness while at the vertex, on the other hand, it is up to 50% less; i.e. about one millimetre. Drilling on, for example, the sphere's brim will prove to be very difficult because the material has a high degree of internal stress that makes it prone to breaking and therefore you should not try to do this yourself unless you are an expert.
Acrylic glass hemisphere, mirrored, hollow
4 Variants
200,00 mm
300,00 mm
400,00 mm
500,00 mm
Note
Please note that we can only ship large quantities of this article as well as acrylic glass hemisphere larger than a diameter of 700 mm per forwarding agency which means that there are higher shipping and handling costs.