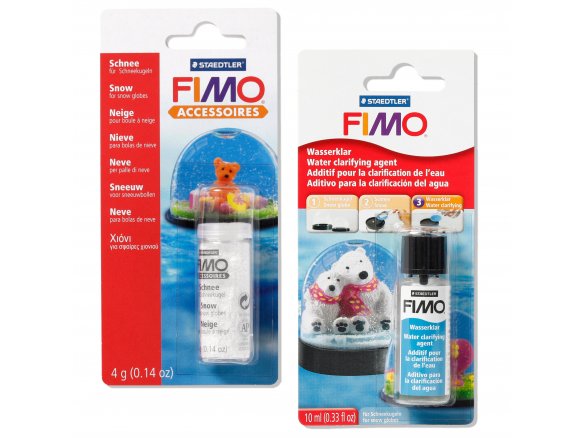 accessories for designing snow globes, come in small glass bottle; snow: granulate, white, grain size 0.5-1.0 mm, "Wasserklar" water clarifying agent: liquid mixture, clear, transparent
People who love snow globes can now design their own! Whether a laminated photograph of a loved one, a Santa Claus or a collection of smurfs - any decorative object can be used as long as it is waterproof...
First you creatively put things into the SNOW GLOBE and glue them into place. After allowing your creation to dry for at least 3 hours you can then shake a teaspoon full of snow powder into the filler opening and set the snow globe upside down in a holder in such a way that it cannot tip over. You then add distilled water (160 ml) to which you then add the preservative agent the will prevent the water from becoming cloudy. The snow globe should be filled to at least the upper rim of the filler opening so that any air bubbles will be as small as possible. Before finally closing up your globe, you should add a tiny drop of detergent to the water.
Accessories for snow globes
2 Variants