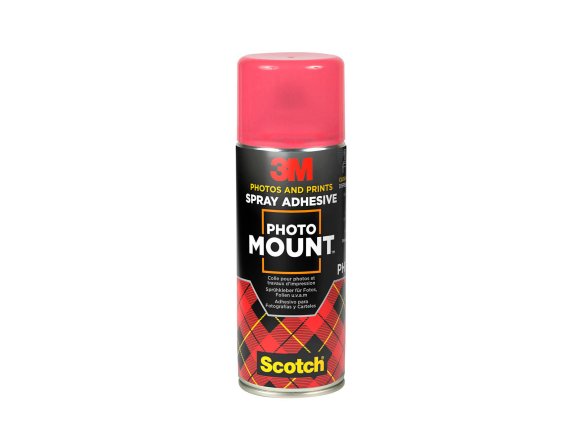 Basis

synthetic elastomer-based

Use

for permanent bonding
Description
Hazard warnings
Photo Mount creates permanent bonds with high adhesive strength. Readjusting is possible within 5 minutes after application. Foto Mount is primarily used for permanently affixing foils and films, photo paper, posters, prints, drawings, charts, etc.
The spray is very fine and even and the coat of glue will not discolour. According to 3M, the contents of a can (400 ml) are enough to cover approximately 3 m² (seems to be a small area but 3M explains that Photo Mount is usually applied to both sides).
Danger, Aceton = 15 - 40 %, Propan = 25 - 35 %, Cyclohexan = 10 - 30 %, Harzsäuren und Kolophoniumsäuren, Ester mit Diethylenglykol = 0 - 3 %, (VOC-Gehalt = 0,0 %), Aerosole, Kategorie 1 -Aerosol, Schwere Augenschädigung/Augenreizung, Kategorie 2 -Eye Irrit. 2, Ätz-/Reizwirkung auf die Haut, Kategorie 2 -Skin Irrit. 2, Spezifische Zielorgan-Toxizität -einmalige Exposition, Kategorie 3 -STOT SE 3, Chronisch gewässergefährdend, Kategorie 2 -AquaticChronic 2
Hazard warnings
H222: Extremely flammable aerosol.
H229: Pressurised container: May burst if heated.
H315: Causes skin irritation.
H319: Causes serious eye irritation.
H336: May cause drowsiness or dizziness.
H411: Toxic to aquatic life with long lasting effects.
Safety instructions
P102: Keep out of reach of children.
P210: Keep away from heat, hot surfaces, sparks, open flames and other ignition sources. No smoking.
P211: Do not spray on an open flame or other ignition source.
P251: Do not pierce or burn, aven after use.
P410+P412: Protect from sunlight. Do not expose to temperatures exceeding 50°C / 122°F.
P501: Dispose of contents / container to …
Downloads
3M Photo Mount spray adhesive, red can 400 ml