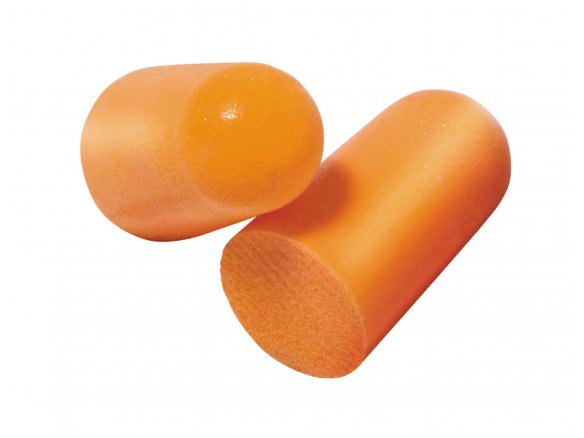 polyurethane foam material, conical shaped, smooth, dirt repellent surface, sound insulation 37 dB (SNR), comes in PE bag
Whether at the workplace or at home, in traffic or at the disco, too much noise is a health risk factor - damage to hearing is irreparable. A simple and very effective method of protection against too much noise is to use ear plugs. This has already become standard practice at the professional worker's level and they are used more and more by the hobbyist as well. They can be used in all kinds of situations where a person requires less volume or no noise at all: for taking tests and trying to learn, at concerts, in the disco or simply for sleeping.
The elastic Series 1100 disposable ear plugs from 3M provide a sound absorption up to 37 dB which is a high degree of protection against noise and they are very comfortable to boot. The conical shaped plugs are easy to insert and fit wonderfully into the ear canal.
These ear plugs should rolled between your fingers till they elongate somewhat and then inserted into the ear where they will expand again and completely close off the canal. They can be reused a number of times after washing with warm water and soap and being allowed to dry in the air.
3M ear plugs, orange, 1 pair