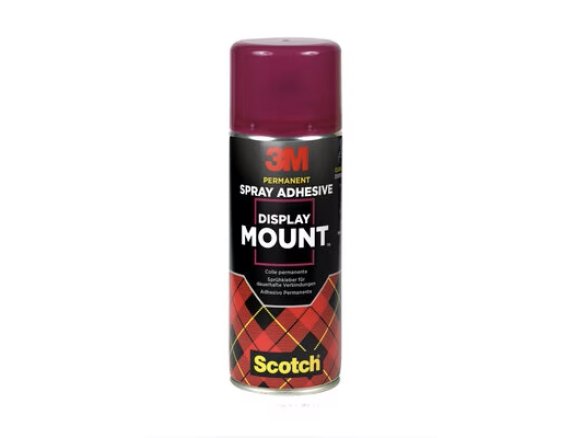 for permanent and unvarying bonding, synthetic elastomer-based, 3-way adjustable spray nozzle, cream coloured, moisture and weather resistant, UV resistant, aging-resistant, polystyrene foam compatible, hazard warning: F+ extremely flammable, N dangerous for the environment
Display Mount is a spray glue for long-lasting bonds that are moisture and weather resistant. It provides, when applied either to one or both sides, a high degree of adhesive strength. Important: of all the 3M spray glues Display Mount dries the quickest.
The spray of Display Mount can be set at three different levels. Display Mount is mostly used for long-lasting bonds on décor elements, labels, signs, textiles, films and foils, foams, in making advertising materials, in store construction, exhibitions and trade show booths and in the decoration sector in general. According to 3M, the contents of a can are enough to cover approximately 10 m².