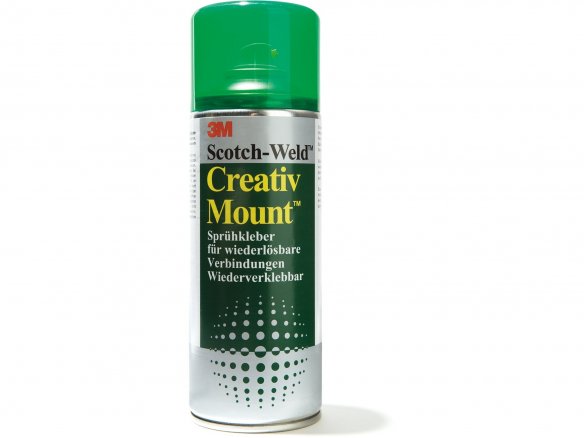 for sticky bonding (Post-it technology), acrylate polymer-based, colourless, UV resistant, hazard warnings: Xi irritant, F+ extremely flammable, N dangerous for the environment
For bonds that can really be undone, Creativ Mount is the ideal product: the bonds can be undone and redone as much as you like. Creativ Mount is exactly the same adhesive that can be found on the back of those little yellow sheets stuck all around the office (POST-IT).
The spray valve produces a very fine and even spray. The coat of glue will not discolour. Creativ Mount is used for the kinds of presentations where an object must constantly be repositioned or removed. It is also a good choice when lightweight signs or lettering are to be used many times over. According to 3M, the contents of a can are enough to cover approximately 9,6 m².
Applications: When gluing large areas it is often difficult to evenly distribute the adhesive everywhere before it has already begun to dry. This problem can be gotten around by using a spray glue. When evenly and thinly sprayed, it will form a coat of adhesive which will not bleed through or make paper wavy. Spray glue can be used on numerous materials: paper and cardboard, a wide variety of plastics and plastic foams (glued to themselves or on wood and metal). Typical areas of use for spray glue include mounting drawings, placards, photographs, maps and the like on solid backgrounds. Examples of substrates abound: KAPA boards, honeycomb board, thick cardboards, basic corrugated boards, Forex boards, etc.
Treatment: When mounting on smaller surfaces it is not the substrate that receives the even coat of glue but rather the object that is to be mounted. After the glue has been applied, mounting should begin on one of the short sides and the rest carefully stretched out and pressed into place. This pressing should always be done from the middle outwards as much as possible so as to avoid small bubbles forming. After that is completed, a PRESSURE ROLLER or a FELT SQUEEGEE-TYPE APPLICATOR should be employed for further flattening purposes. If, for example, you plan to glue-mount a large number of ink-jet prints on presentation boards, it is helpful to have many separate underlayers on hand because as you spray the backside of a print there will always be some overspray on the underlayer upon which you will then not be able to lay the next print.