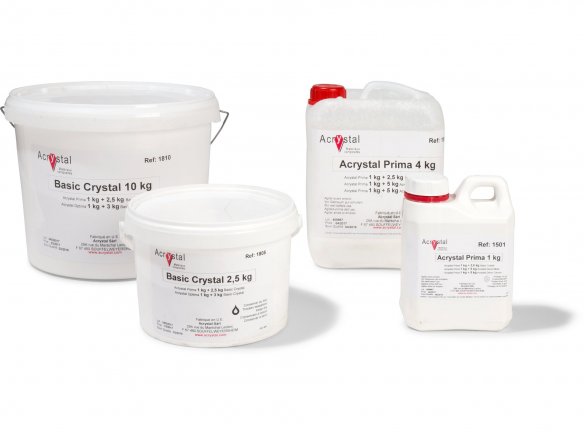 material

two component water-based acrylic resin system

Range of application

for casting, laminating and coating, for interior as well as protected exterior spaces

End state

material is opaque white when hardened, density (at room temperature) 1.85 g/cm³, can be coloured

Working life

approx. 8-10 minutes

Combustion behaviour

flame retardant, self-extinguishing
At this juncture, we would like to introduce you to a remarkably versatile two-component, water-based acrylic resin system that has many advantages over other comparable synthetic resin based products. This acrylic resin bound synthetic gypsum from the Acrystal company has, through the use of variations of the base materials, different attributes and therefore is suitable for a variety of uses – as quick casting resin, as a coating for polystyrene foam or as a laminating resin. The product consists of a water-based acrylic resin (component A) and a plaster-based powder (component B).
Uses and Attributes: Without producing very much heat in the process, this material cures without shrinking. Once cured, it has a very high mechanical stability and impact strength as well as good weather resistance and UV stability.
The material can be used in the production of (architectural) models, prototypes, replicas, support moulds and theatre and movie sets or for coating polystyrene foam or for making laminates, architectural decorations, etc.
Polystyrene foam models can be coated very nicely with Acrystal Prima in order to make a negative of the model because it seals up the pores of the polystyrene foam. In order to harden a polystyrene foam form (e.g. for stage sculptures), you can apply a coat of Acrystal Prima, place nettle cotton over that, press it into place and add one more coat of Acrystal Prima. A hard and sturdy surface will thereby be created.
Workpieces made from Acrystal Prima can be used outdoors but should not be exposed to water. When used outdoors, any end product should be made weather resistant by means of a coat of an acrylic paint (e.g. Marabu Aqua glass varnish, colourless). For large forms like garden sculptures, care regarding drainage must be taken so that water will not accumulate and damage the piece.
Moulds made from Acrystal Prima can be sanded and rasped, are fire resistant (self-extinguishing) and temperature resistant up to at least 80 °C, which means they are suitable for use as deep-drawing bowls. Even very thin layers are extremely sturdy.
Acrystal Prima is the ideal material for making lightweight supporting moulds. Because no shrinkage occurs during the drying period, no deformation of the supporting mould takes place. Even in the case of larger support moulds, no metal reinforcements are necessary.
Because the acrylic casting and laminating resin contains no solvents and only produces a moderate amount of heat during curing, it is an excellent material for casting in silicone moulds whose working life is approximately 50 times as great as moulds made with polyester.
As far as its handiness as a casting resin and its technical attributes (see the table "casting resins – a comparison of our products"), Acrystal Prima is comparable to synthetic resin based casting materials but has the advantage over them that it contains no hazardous materials. It also contains no organic solvents and is exempt from the German labelling requirement regarding hazardous materials. Like the low-viscosity synthetic resin, it can be poured in very thin wall thicknesses.
Acrystal Prima can be filled with a variety of filler material that will not react with water such as sand, quartz, lightweight filler (hollow glass balls), etc. The mixing ratios in these cases should be approximately 1 part component A, 2.5 parts component B and maximum 2.5 parts filler. Please note that the end material will become more labile in direct proportion to the amount of filler you use.
This acrylic resin system can be coloured with any acrylic-based inks or pigments whereby, however, the working life and the de-moulding time may be lengthened or shortened as the case may be.
Treatment: This product can be used in a casting process without the loss of volume. You will only need the A and B components for casting work unless you want to lengthen the extremely fast working life of 8 to 10 minutes, in which case you will require a retarding agent. A ration of 1 part acrylic resin to 2.5 parts powder should be weighed separately. Any colour pigments or retarding agent should then be stirred into the liquid component and this then further stirred at a rate of 700 to 800 rpms until a vortex is produced at which time the powder component can be added. Powder pigments must, by the way, be mixed into the powder component before being added to the mix. For an homogenous and bubble-free mixture, the mixture should be stirred for another 1 to 2 minutes after which time the thixotropic agent the compound can be added for the purposes of thickening as needed.
Except in the case of silicone moulds being employed for the casting, all moulds must be coated with a release agent before the pour. The first coat of the agent should, if possible, be applied with a brush on the inner part of the mould in order to attain as pore-free a surface as possible. After you have subsequently poured the casting mixture into the mould, any resulting air pockets can be removed by means of a light shaking or by tapping on the mould. Depending on the geometry of the mould and the thickness of the layer, the cast object can be removed from the mould from between 20 and 120 minutes after the working time has run its course.
The setting process is completed when the temperature of the moulded piece has gone back down. After its removal from the mould, the casting piece should be allowed to cure at room temperature for three more days – after 6 hours, however, it has already attained about 90% of its final hardness. The resulting object can be deburred immediately after de-moulding if that is required.
When used in conjunction with the Quadraxial Glass Fabric 200-4D, lightweight, thin and very sturdy laminates can be produced by means of either a lamination or coating process. Lamination work with Acrystal Prima, with its working time of only 8 to 10 minutes, must be done very quickly. For this reason you will need, in addition to a glass fabric for reinforcement, a retarding agent and perhaps even a thixotropic agent (thickener) in order to attain the right consistency for your project. The mixing ratios of the components must be carefully observed. You should not, for example, just decide to use less water in order to produce a more viscous mass but, instead, you will have to use a thickener for that purpose.
As a rule, 2 layers of glass fabric that has been cut to the right size will suffice. The various selected components should be mixed with one another as described in the casting process and the first coat with a thickness of 1 to 3 mm should be applied to the intended object with a brush. After the first coat has set up (it should not stick to your finger anymore), the second coat can be applied, upon which the first layer of the glass fibre fabric must then be immediately applied and pressed into place. After applying the next coat of Acrystal Prima, you can press more glass fibres that have been cut into small pieces into it and then add the second layer of the glass fabric onto these pieces.
Thus can further layers be applied until the lamination process is completed with a final coat of resin. The setting process is completed when the temperature of the moulded piece has gone back down. After de-moulding, the laminate should be allowed to cure at room temperature for three more days before being put to use – after 6 hours, however, it has already attained about 90% of its final hardness.
In order to attain a perfect surface, FEW polyester finishing can be used to rework the laminate after it has completely cured.
As long as the resin has not yet dried, any tools used can be simply cleaned with water. Further information regarding treatment and applications can be found at the individual products.
Resina acrilica laminatura/stampiAcrylstal Prima
4 Varianti
Avvertenze
Please note that we can only ship large quantities of this article per forwarding agency which means that there are higher shipping and handling costs.


The product consists of two components (liquid and powder). Both resin and hardener (powder) are, when kept at room temperature (protect against frost!), still processible for up to 24 months. Please note, however, that the hardening time will become longer as the product gets older.