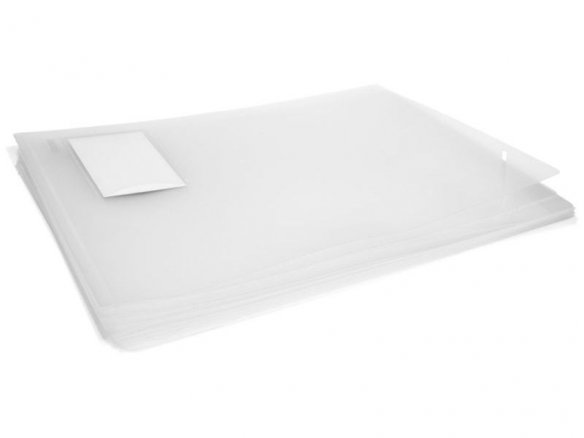 polypropylene (archival safe), smooth, transparent, coloured, open on two sides (one long, one short), document access cutout, slotted corners, front sheet has card holder welded to its exterior
If you have to organize and get to the necessary paperwork for many different projects that are on your desk, clear sheet protectors are used as a means of keeping the different topics separated into different stacks. In order to maintain an overview it is especially helpful if there are a variety of sheet protectors to choose from.
These sheet protectors are great because they are made from film that is almost twice as thick as conventional covers. They will last for a remarkably long time under the stressful conditions of daily office work. In addition, the thicker film provides a greater degree of rigidity. When a document is inserted into the slot in the upper right corner on the front sheet of the cover, it cannot slip out of this sheet protector. This can be very practical, especially in the case of high stacks of the protectors!
The business card holder that is welded onto the front cover sheet (57 x 89 mm) can of course also be used for labeling purposes while making it possible to quickly establish what the file contains and to whom it refers (like customer, supplier, etc.).
Plastic envelopes without a filing strip (sheet protectors) are used to protect paperwork and documents against creasing, dirt or the ravages of weather (rain, moisture) both while underway or at your workplace. The large opening on these envelopes, which is either at the top or on the side, provides easy access to the contents within.