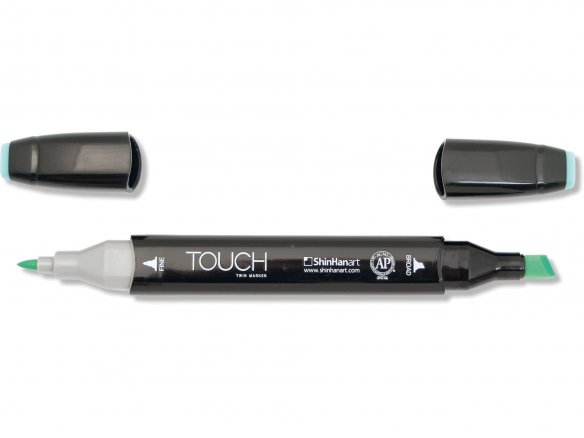 alcohol-based ink, non-toxic (AP certified), refillable, black plastic barrel; 2 interchangeable nibs: slanted (broad 2 – 6 mm and round (fine) ca. 1 mm; the end piece of the cap is colour coded
The Touch Twin Marker has the same shaped drawing nibs as the Copic Marker. We have found that the Touch's nibs are, on the one hand, long-lasting and robust but are, however, somewhat harder and more rigid than the Copic. The barrel of the Touch is square-shaped with the edges being rounded and sits nicely in the hand, whether large or small.
In order to enable a quick determination of which end of the pen is which – i.e., which nib you will get - there are, firstly, small markings and, secondly, there is a gap between the caps and the barrel which allows you to see the grey of the fine liner nib and the black of the broad liner nib (if you know what to look for!).
FYI: the AP certification mentioned under Description is an important product evaluation that is widely used in the USA. It tests products for toxicity or, alternatively, possible health risks.
Touch Twin Marker
203 Variants