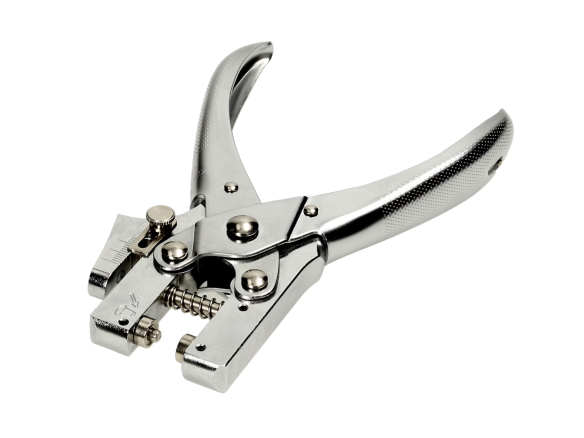 head made of solid steel, steel handle, nickel-plated, pierces and eyelets in one step, can pre-punch as well, adjustable depth (reach) limit stop on the punching device (maximum reach is 18 mm to the middle of the hole), hole size is 4.5 mm, for attaching eyelets with 4.0 mm inner diameter
Considering its high quality, our substantial and sturdy piercing and eyeletting pliers is definitely worth the money. Producing such a well-made tool makes particular sense in cases where it will be in constant use – it is much more smooth running and robust than any of the cheaper alternatives. In contrast to other models, it can pierce and eyelet materials like paper, cardboard, films, foils, fabrics and leather in one easy motion. Thicker materials may require pre-punching before the eyelets can be inserted; this can be done with the separate punching device.
The eyelet pliers are employed such that the handle with the spiral spring is in the upward position. The eyelet is placed on the tool's vertical shaft with its flared part pointing down and then fed into the previously made hole in your material. You then SQUEEZE the pliers´ handles together – and voila, you have an orderly hole reinforced with an eyelet through which, for example, an elastic band, tape or cord can be pulled without tearing the material. The depth limit (reach) stop on the punching device assures that the space between the hole and the edge is always the same.
It is somewhat easier to eyelet with the steel eyelet, brass coloured version because it is less thick than the steel eyelet, nickel-plated one. In addition, the brass-coloured grommets have slits on the tube (non-flanged) side that makes it easier to bend it over into a flange and you end up with a much more even and cleaner result.
Ticket and eyelet punch pliers, superior quality, l = 160 mm