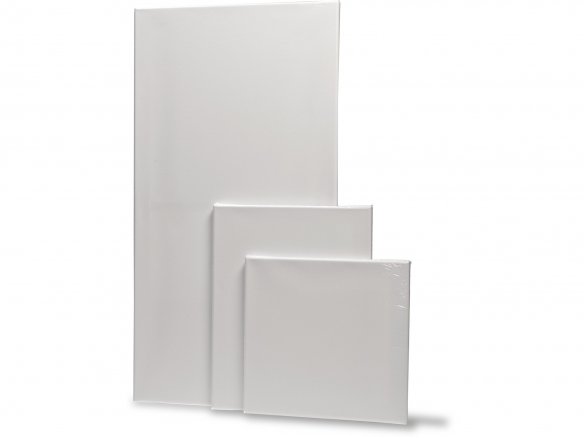 Good tension performance
Cost-effective and durable
Classic white
Made in Germany
Material

softwood strips, covered with a cotton blend fabric (cotton/polyester), approx. 360 g/sqm, medium structuring

Dimensions

19 x 35 mm [height (high molding) x width (wide molding)]

Grounding

titanium dioxide, triple, white

Features

clamped on the back, moderately absorbent, for all painting techniques

Delivery scope

without tensioning wedges
The stretcher frames, which are made in Germany, are covered with a grounded cotton blend fabric (cotton/polyester). They are suitable for all painting techniques, from acrylic to gouache to oil. Important to note right at the beginning: Wedges are not included with the stretcher frame. You can find wedges among the wooden wedges for stretcher frames.
Whether you opt for a stretched canvas material of pure cotton or mixed fabric is just a matter of taste. Mixed fabrics are a bit cheaper. However, the different types of fibers can behave differently in certain temperatures and humidity levels, which can negatively influence the combined image carrier, grounding, and picture layer.
For larger formats, we generally recommend stretcher frames with a larger high molding, such as the white, grounded stretcher cotton fabric C, since this generates higher stability.
Stretched canvas, mixed fabric, white, primed
15 Variants
Note
Fluctuations in the humidity can occasionally cause a stretcher bar to warp. In order to prevent that, you should keep in mind that any change of your picture´s environment can cause damage. Most natural fabrics contract when wet. For that reason, a stretch canvas should not be wedged out at the corners before you do your painting. This contracting property of the fabric can be put to good use in instances when dents or light creases have shown up on your canvas: you can wet it yourself from the back to remove them.