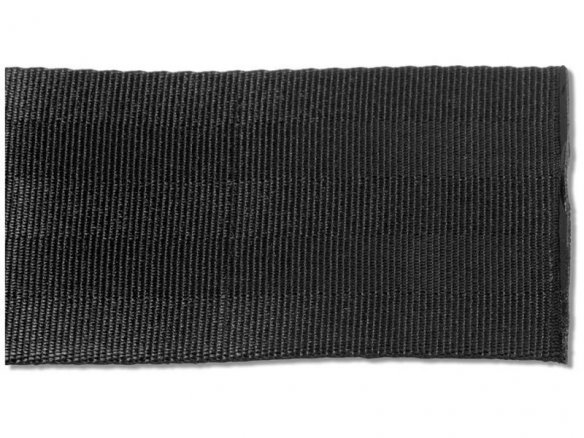 100% polyester, UV stabilized, tensile strength 2800 daN
Seat belt webbing – upon reading that name you know exactly what is being talked about: a black, glossy, very smooth-feeling strap with two black strips of different types of weave that can be made out when the light is right. The name, however, should only be taken as an aid to visualising the kind of belt for sale because our polyester strap, in contrast to a real safety belt found in the automotive sector, has not undergone any safety testing (TÜV, in Germany). In a nod to Magritte and in the name of safety, we must here state that "This is not a seat belt webbing"! This great looking and nonetheless particularly sturdy belt should only be used on bags, as a guitar belt or as the back of your self-made dining chair, to name only a few uses - but NOT as a safety harness!
It is best to stitch up the ends or use rivets – gluing is not recommended because of the type of material as well as the probable shear weakness at the bonding point.
Seat belt webbing, polyester, fine weave, th = 1.2 mm, w = 48 mm, black