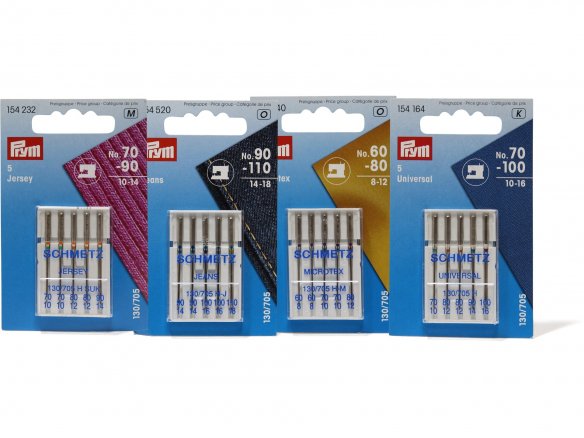 different needles for different materials
different strengths in 5-pack
professional quality
Material

steel, rust-free

Construction

flat shank, longitudinal groove, polished eye

Contents of set

5 needles in different combinations

Dimensions

l = 40 mm, needle thickness: 0,6 - 1,1 mm

Packaging

small plastic box on a blister card
Although in the past only universal or general clothing needles were available, nowadays there are a variety of different needles for use on different types of cloth or other types of sewable materials - as well as, of course, needles designed specifically for use with sewing machines. Prym needle sets each contain 5 needles in different thicknesses which are designed for different materials:
Standard or universal needles have a slightly rounded point. They pass easily through many types of fabric and are suitable for use on conventional cotton or linen. (Set contains: 70/80/80/90/100).
A leather needle has a triangular point that punctures fine holes in the substrate - once the needle has been stuck through, its hole remains visible in leather (which is the reason such needles should never be used for normal fabrics!). Set contains: 80/80/90/90/100) 
Jersey or stretch needles have a ball point. It only pushes the fabric fibres apart when stuck into it but does not puncture it. Puncturing of fine elastic fabrics can cause them to run. (Set contains: 70/70/80/80/90) 
A jeans needle is the right choice when sewing, uh, jeans, tightly woven canvas or similar fabrics. Because the shaft is reinforced there is less deflection of the needle and fewer of them will break. (Set contains: 90/90/100/100/110)
In cases where an especially sharp, slender point for easy insertion into very fine, thickly woven or specially equipped material, it is best to reach for a Microtex (Sharp) needle. It will form particularly straight stitches when topstitching borders or seams and works very well with silk, microfibre fabrics (e.g. softshell), coated materials (wax cloth), films and artificial leather. (Set contains: 60/60/70/70/80)
Regardless of the type of needle, it is always the case that the thickness of the needle should be determined by the thickness of the intended material (coarser fabric: greater needle thickness of 100/110 or, if you will, 1,0/1,1 mm; thinner fabric: lower needle thickness of 60/70 or, if you will,  0,6/0,7 mm).
Prym sewing machine needles with flat shank 130/705
5 Variants
Accessories and Related Products