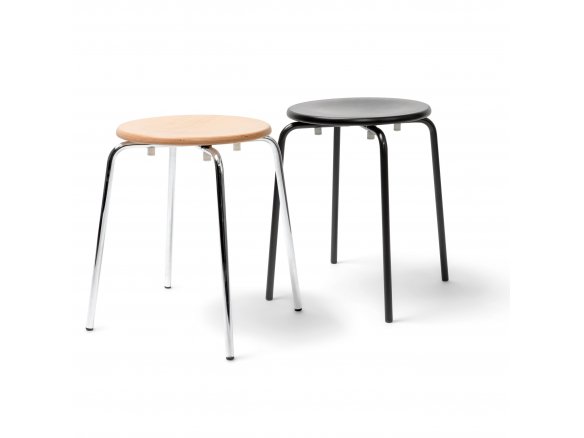 High quality and durable
Made in Stendal, Germany
Seat

15-fold glued laminated beech wood panels, th = 20 mm, natural and lacquered or stained and lacquered black, from local forestry

Frame

steel round tube ø 18 x 2 mm, shiny chrome-plated or black powder-coated

Seat height

460 mm

Seat width

360 mm

Weight

4 kg

Equipment

black plastic glides

Manufacturer

L&C Stendal
Reduced to the essentials and superbly processed: The stackable pocket stool is there when you need more seating and can be stowed away again to save space in the blink of an eye. The classic stool with its simple and functional appearance is made in the traditional tubular steel manufacturer L&C Stendal, manufactured with the highest quality standards.
By the way, Bauhaus students were already sitting on chairs from L&C in the 1920s. But the company's history goes back even further: In 1889, iron merchant Louis Arnold and his son Carl founded the iron furniture factory called L&C Arnold in Stendal, which developed into Europe's leading tubular steel furniture manufacturer by 1926, primarily with the production of garden furniture and bed frames. The folding garden chair No. 2, which is still known today as a classic beer garden chair, is a particular bestseller.
In the 1920s, a close collaboration developed with the designers of the Bauhaus, many of whose designs were made in Stendal: e.g., shows L&C Arnold at the Werkbund exhibition "Die Wohnung" in Stuttgart in 1927, a device developed by Mart Stam and manufactured by Arnold, including the first chair without back legs (cantilever chair). In 1933, an exclusive production for Marcel Breuer of over 36 tubular steel models in the Bauhaus style.
After 1945 the factory in Stendal was called "VEB STIMA" and manufactured chairs, tables, and beds for GDR requirements and export. After reunification, the company gradually relaunched the Bauhaus furniture classics and expanded the program with the "Stendal Collection" to include re-editions from the 1950s and new designs that were produced in the tried and tested highest quality and with high and consistent design standards will be.
Pocket 412 stool, stackable
2 Variants