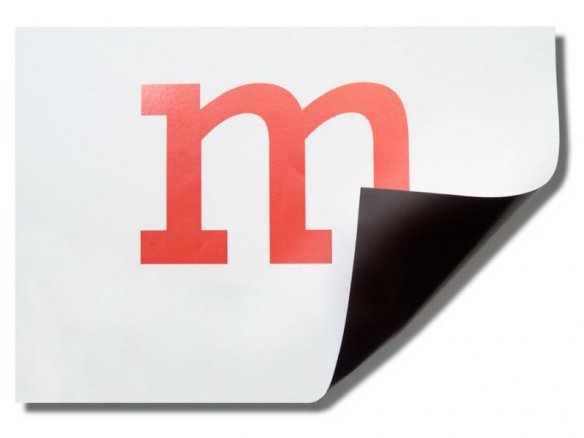 the non-magnetic side is paper coated, matte, adhesive strength 0,12 N/cm², th = 0,3 mm
Making your own magnetic signs, symbols, decorations and lettering for magnetic blackboards or for refrigerators – one way this can be done is to print on an INK-JET FILM or LASER FILM and glue it to a magnetic surface (MAGNETIC FOIL or a MAGNET); another easier way would be to print directly onto this magnetic foil with its paper coating on one side. Either a laser printer or an ink-jet printer can be used for the job. Of course it is also possible to simply write or paint directly onto the overlain paper. This magnetic foil is pretty thin, which makes it possible to cut it with a SCISSORS, a CUTTER or, for more precise contours, with a CUTTING PLOTTER.
The foil is permanently magnetic, which allows it to be repositioned as many times as you like; its magnetic strength, it should be noted, is only really effective when it is applied to a flat surface. For this reason it should not be used on bent or curved surfaces or ones that are highly textured.
According to the manufacturer, this foil is suitable for use with both laser and ink-jet printers but it is still nonetheless advisable to try out your particular combination of printer and foil before beginning any important project.
Printing on this foil with a laser printer is possible but can only be recommended with great reservation and the caveat that you do so at your own risk; only laser printers with a low operating temperature can be used prudently. Exercise caution!
Permaflex magnetic foil, paper coated, white
2 Variants