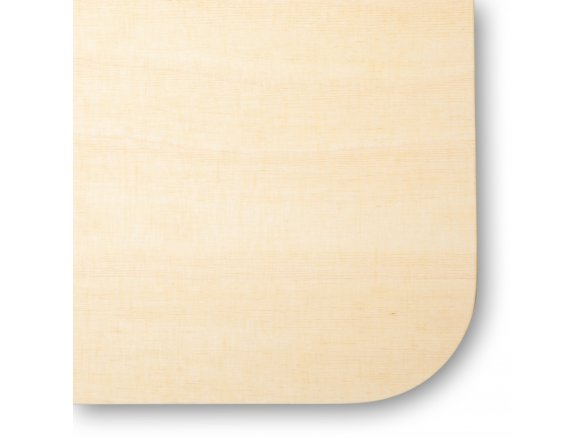 Wooden table-top at an affordable price
Lively grain
Naturally oiled - pleasant feel
Beveled edge - filigree appearance
Soft rounded corners
Handcrafted in Germany
Material

Birch multiplex plywood, glued waterproof, top sanded and oiled, bottom sanded

Cover

Birch peeled veneer, grain parallel to the short side

Edge

25 ° bevel edge, sanded and oiled

Corners

Rounded in a 50 mm radius
Would you like to have a table with a natural wood surface, but it doesn't have to be a fine veneer made of oak or walnut? Or maybe you are a fan of the light birch multiplex tops, but you want more from your table than a top that is just raw, coming directly from sawing onto your table frame?
Then you might like our multiplex table-top with beveled edge, elegantly rounded corners and an oiled, natural surface. Through this processing, the simple, almost semi-finished plate gains a few nice details, which, with a matching table frame, make it a fully-fledged and durable piece of furniture. And at a good price.
Natural surface - oiled and moisture-repellent
The surface of birch peeled veneer is treated with a special natural oil. This makes the table-top moisture-repellent and resistant for your everyday use, but the wood remains open-pored for a healthy indoor climate and retains its natural, warm feel. The layers of the birch multiplex plywood are glued waterproof, their characteristic striped edges are finely sanded and also oiled so that no moisture can penetrate.
Light look
The beveled edge at an angle of 25 ° makes the stable multiplex table-top appear significantly thinner, almost floating, because only about 8 mm of material remains as the visible top edge. The filigree appearance is supported by the softly rounded corners in a 50 mm radius, which also help to prevent bad bruises if you or your children bump into it.
Matching table frames
The multiplex table top with beveled edge looks particularly light on our Y table frames, in which the frame is offset inwards and is therefore not visible at first glance. If you choose a Y table frame with legs made of solid wood, you can design a cozy table (almost) entirely of wood. As a natural contrast, the multiplex table-top with angled edge also fits on our technical T table. So that the 18 mm thick table leaf does not sag or warp, we advise you to place it on a table frame with supporting frames and always screw it together.
So your multiplex table-top stays beautiful for a long time
Oiled wooden surfaces are protected against dirt and have antibacterial and anti-static properties. The oil maintains the wood and leaves the pores open. If you spill coffee or water on the table-top, the protective film of oil prevents the liquid from penetrating immediately, but you should hurry to wipe it off to prevent it from being drawn into the surface. You can use the multiplex table-top e.g. for your dining table, desk, or conference table in the office. But make the effort to oil the surface regularly, then your wooden table-top will age with elegance and become even more beautiful.
Good to know
The surface of the multiplex table-top consists of birch peeled veneer. Due to its manufacture - the tree trunk is "peeled off" from the outside in with the veneer knife - the peeled veneer shows a moving, irregular grain. Small mistakes, such as Knotholes can be touched up with puzzle-like inlays. Oiling increases the grain and emphasizes the liveliness of the wood. Since wood is a raw material grown at different locations under very different conditions, of course no veneer is the same. For you, this means: Your multiplex table-top has a uniquely grained surface (also with "growth defects") - so don't fall in love with the grain in our photos, but look forward to your own unique piece.
Even the cut edges of a birch multiplex plywood panel can never show a flawless stripe view due to production. When producing the plywood board, several layers of birch veneer are glued crosswise one above the other. There are always small overlaps or gaps between the veneer sheets that are placed next to each other, which can be reflected in the cut edge of your table top. Our carpenter closes small holes with suitable wood putty so that no moisture can penetrate into the panel at the relevant points.
Multiplex table top, bevelled edge, 50mm corner ra
3 Variants