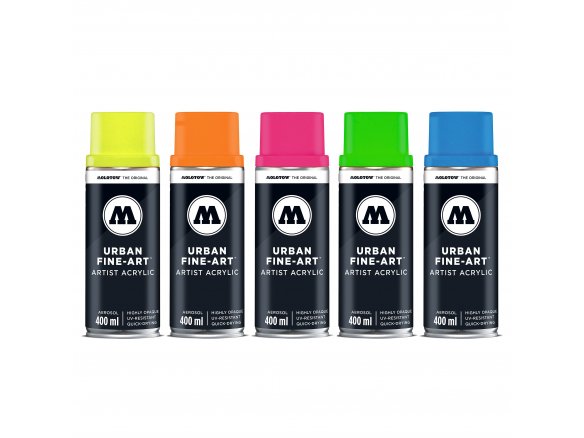 acrylic-based paint, semi-gloss, good coverage, smudge-resistant, weather resistant, hazard warning: Xi = irritant, F+ =highly flammable
The neon paint described here is one of the 26 special effect paints in the Urban Fine-Art product line; the paints all have a high level of pigmentation and provide maximum coverage as well as, and above all, durability.
Because neon pigments are invariably less UV resistant by their nature, a protective coat of the Urban Fine-Art UV varnish should be applied over any application that demands longevity (it comes in glossy and matte) in order to increase this paint´s UV resistance. Note: while it can be assumed that customary neon spray paints will usually be lightfast for X number of weeks, Molotow insists that their Fine-Art version will last a few MONTHS! The optimum luminescence is achieved when the neon paint is applied to a surface that has been primed with the white coloured Urban Fine-Art filler!
Urban Fine-Art paints are great for use on artist canvases; they have a viscosity similar to oil paint and can be reworked on such surfaces with a palette knife, brush, or other utensil. In addition, Urban Fine-Art paints will adhere to all dry, dust-free and grease-free surfaces like cardboard, paperboard, plastic (with the usual exceptions of silicone, PE, PP, POM, etc.), wood, glass, stone, metal, clay and other natural materials.
The fine spray will be dust-dry in about five minutes (depending on the thickness of the coat, of course) and completely dry in a few hours. When thoroughly dry the paint is weather resistant. After use, the can should be turned upside down and sprayed for about three seconds in order to evaculate any paint in the nozzle and prevent it drying the opening closed.
Molotow Urban Fine-Art, neon
5 Variants