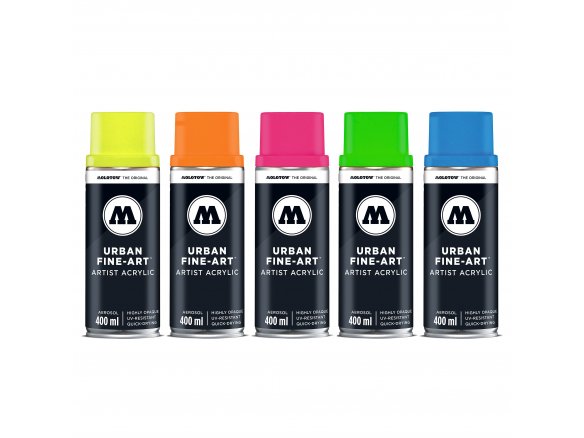 acrylic-based paint, semi-gloss, good coverage, smudge-resistant, weather resistant
Description
Hazard warnings
The neon paint described here is one of the 26 special effect paints in the Urban Fine-Art product line; the paints all have a high level of pigmentation and provide maximum coverage as well as, and above all, durability.
Because neon pigments are invariably less UV resistant by their nature, a protective coat of the Urban Fine-Art UV varnish should be applied over any application that demands longevity (it comes in glossy and matte) in order to increase this paint´s UV resistance. Note: while it can be assumed that customary neon spray paints will usually be lightfast for X number of weeks, Molotow insists that their Fine-Art version will last a few MONTHS! The optimum luminescence is achieved when the neon paint is applied to a surface that has been primed with the white coloured Urban Fine-Art filler!
Urban Fine-Art paints are great for use on artist canvases; they have a viscosity similar to oil paint and can be reworked on such surfaces with a palette knife, brush, or other utensil. In addition, Urban Fine-Art paints will adhere to all dry, dust-free and grease-free surfaces like cardboard, paperboard, plastic (with the usual exceptions of silicone, PE, PP, POM, etc.), wood, glass, stone, metal, clay and other natural materials.
The fine spray will be dust-dry in about five minutes (depending on the thickness of the coat, of course) and completely dry in a few hours. When thoroughly dry the paint is weather resistant. After use, the can should be turned upside down and sprayed for about three seconds in order to evaculate any paint in the nozzle and prevent it drying the opening closed.
Danger, Aceton = 25 - < 50 %, Propan = 10 - < 25 %, Butan (<0,1% 1,3, Butadien) = 10 - < 25 %, n-Butylacetat = 10 - < 25 %, Xylol (Isomerengemisch) = 5 - < 10 %, Isobutan (<0,1% 1,3 Butadien) = 5 - < 10 %, Ethylbenzol = 1 - < 2,5 %, 2-Methoxy-1-methylethylacetat = 1 - < 2,5 %, CAS 222716-38-3 Polyamide and fatty acid derivatives = < 1 %, Aerosol 1, Eye Irrit. 2, STOT SE 3
Hazard warnings
H222+H229: Extrem entzündbares Aerosol. Behälter steht unter Druck: kann bei Erwärmung bersten.
H319: Causes serious eye irritation.
H336: May cause drowsiness or dizziness.
Safety instructions
P101: If medical advice is needed, have product container or label at hand.
P102: Keep out of reach of children.
P103: Read label before use.
P210: Keep away from heat, hot surfaces, sparks, open flames and other ignition sources. No smoking.
P211: Do not spray on an open flame or other ignition source.
P251: Do not pierce or burn, aven after use.
P261: Avoid breathing dust / fume / gas / mist / vapours / spray.
P271: Use only outdoors or in a well-ventilated area.
P305+P351+P338: IF IN EYES: Rinse cautiously with water for several minutes. Remove contact lenses, if present and easy to do. Continue rinsing.
P312: Call a POISON CENTER / doctor / … if you feel unwell.
P337+P313: If eye irritation persists: Get medical advice / attention.
P410+P412: Protect from sunlight. Do not expose to temperatures exceeding 50°C / 122°F.
P501: Dispose of contents / container to …
Molotow Urban Fine-Art, neon
5 Variants