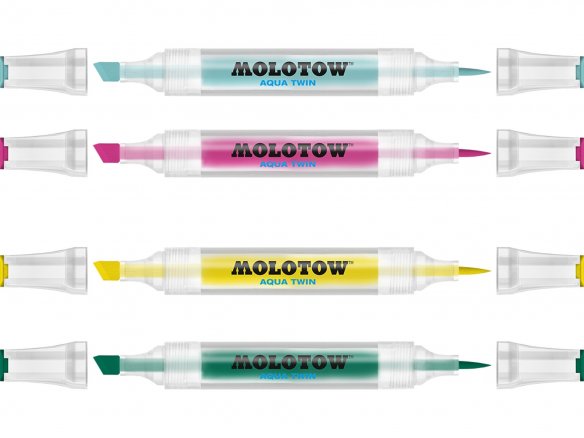 Water-based layout marker
water-based ink, food-based colourants (in accordance with EU regulations), good UV resistance, intense colours, odour-free, transparent barrel, refillable, 2 exchangeable tips: screw-on 2-6 mm broad (chisel) tip and 1 mm soft tip
Copics and Touch Marker have a competitor: Many painters and drawers complain about the strong solvent smell emanating from Copic and Touch markers while others are strangely addicted to it! Molotow now has on offer an odourless, water-based alternative that is of course refillable: It´s called the Aqua Twin Marker!
The Aqua Twin comes in twelve colours and twelve grey hues, all of which can be mixed to form new colours by employing refill bottles and empty marker hulls - especially because all the Aqua inks lend themselves wonderfully to mixing. In addition, the Aqua Blender can be used to thin the colours which serves to increase the range of possible colour shades immensely (see: MOLOTOW AQUA MARKER BLENDER PRO). Even without their own mixtures: The Twin Markers are no problem to refill in that you simply unscrew the barrel and let Aqua ink soak into the fibre rod that is found within  (maximum 4 ml). (Strangely, this rod is called a "tampon" in German"). This not only protects the environment, but your wallet as well! It is not just the markers that are refillable, but the tips, too, can be replaced.
The Aqua ink dries immediately, a feature that allows you to evenly fill in large areas and to produce subtle colour transitions. It is also the case that the Aqua ink will not bleed through just about any substrate - if it does it will be a minimal amount!
Molotow Aqua Twin Marker
24 Variants