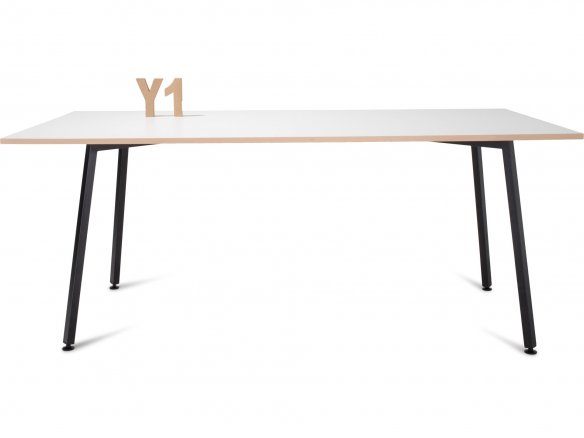 Sturdy, white Melamine tapletop with beech edge band
Durable, powder coated, black steel frame
10° slanted table legs
2 tabletop sizes
Tabletop

white melamine coating and beech edge band

Tabletop thickness

19 mm

Tabletop size

800 x 1600 mm or 900 x 1800 mm

Table frame

Steel, black, textured powder coat (RAL 9017)

Leg length

710 mm

Leg thickness

Square, 30 x 30 mm, hinged foot: Ø 40 mm

Leg inclination

10°

Frame rail length

Depending on tabletop size: 650 mm or 850 mm

Connector

2 Y connectors

Max. load

150 kg surface load

Supplies

Screws, tools not included
Elegance meets stability. The timeless design of our Y-table series can be used in diverse applications. The Y-tables were originally developed as fine and practical furnishings for work, studio and conference spaces. However their potential goes far beyond that and does not stop at public and prestigious but applies to formal and private contexts as well.
The Modulor Y1 table consists of a black table frame and a melamine-coated, white table top with beech edging. All metal components of the frame are made of steel and have a durable, textured powder coating that is easy to clean.
Modulor Y1 Table with effective table frame
The special appeal of the table lies in the construction of its frame. The rails do not follow the contour of the tabletop. Instead they are offset toward the middle. This creates the illusion that the table top is floating in place. The slender, square and slightly slanted (10°) table legs support the lightness and finesse of this effective overall construction. Only from far away or by looking under the tabletop is the thoughtful and effective interaction between table top and legs revealed.
The clever base: Frame and connectors
The frame, located in the center of the table, contributes to the floating table top effect. A connector is hidden on either end of the frame. These connectors are the namesake of the tables series and have a Y shape. This is what specifies the direction and placement of the table legs. This in turn allows them to be mounted on the free ends of the connectors. The lengthwise play of 5 cm can be used to vary the distance between the legs and table top as desired. The table legs themselves have height adjusters on them that ensure the table is firmly on the ground. The Y1's high secondary stability comes from the screw fitting of the frame and top.
Timeless design: Black frame and white table top
The minimalistic design of the Y-table doesn't just stem from its pared down and clever styling. Largely responsible for the elegant appearance is the combination of black and white along with the table top veneer with beech edging. The robust particle board is coated with melamine on both sides. Their surface texture is fine-grained and beaded. The beech edging makes for a small but fine accent between the white table top and black legs.
Modulor Y1 table frame, steel, black, 10°
2 Variants
800 mm x 1600 mm
900 mm x 1800 mm