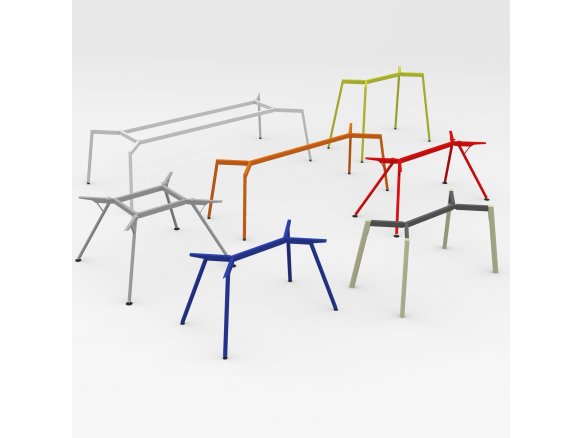 Colours

15 differently coloured powder coatings
Modulor Y Table System, coloured
The "coloured" Modulor Y table system is really just the expansion of the Y table system that we have until now only sold in black to include a wide variety of coloured versions. We have selected 18 colours that go particularly well with our linoleum tabletops in order to create beautiful, colourful tables. Please note that table frames that have been painted a new colour are not suitable for outdoor use.
How to order your Y table frame
Please use the table size overview (PDF) to help you select all your table components and then supplement them with the coloured components you want.
Components with different colours cannot be ordered for one table frame (frames can only have one colour).
The surcharge for one colour applies to the painting of one table frame; i.e. for maximum 2 table leg sets, max. 4 junction pieces,and max. 4 rails.
Because of custom made nature of the product, delivery time is between 7 and 8 weeks
Please note that coloured table frames cannot be exchanged.
If you are ordering multiple table frames in the same colour, please email us at anfrage@modulor.de and request a discounted offer.
Modulor Y table frame, coloured
35 Variants
Connector joints
Farbe
Frames
Table legs