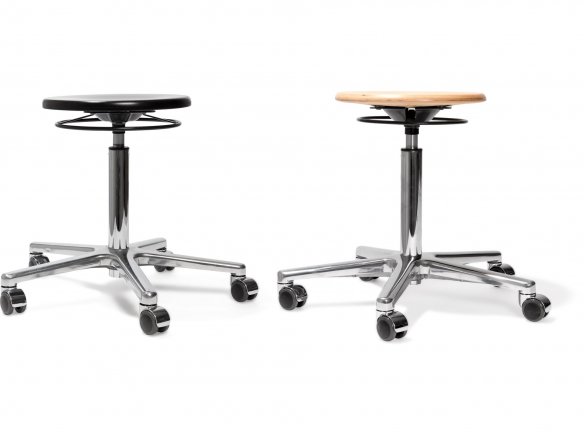 Made in Germany
High-quality and long-lasting design
GS symbol
Height adjustable
Star base

polished aluminium with cast aluminium castors

Seat

14 x laminated moulded beechwood, th = 20 mm, stained and varnished

Dimensions

seat height x diameter or seating area

Weight

ca. 7 kg

Guarantee

5 years
The main focus of the design of Modulor´s work stool is healthy as well as active sitting at the workplace. A ring running below the whole circumference of the stool´s seat provides the means for easily adjusting the seat´s height, which tends to encourage an erect sitting posture. This stool is especially great for sitting at a workplace or conference table or for spontaneous informal meetings in which dynamic and variable sitting positions are generally the norm. The 5 year guarantee and the 10 year replacement part availability guarantee ensures that you will be able to use this stool for the long term!
The Modulor work stool is built in a modular construction system consisting of a 5-pointed star base with castors, a gas strut, a seat support with a release ring and a round seating surface. All the parts are either screwed or plugged into place and, if necessary, can be replaced individually. This stool has soft castors for use on hard flooring.
Please note that this stool is not suitable for use as a standing aid (too unstable!).
The Modulor work stool fits very nicely to the MODULOR TABLE SYSTEMS by virtue of its straight-forward and reductionist design.
Modulor work stool
2 Variants