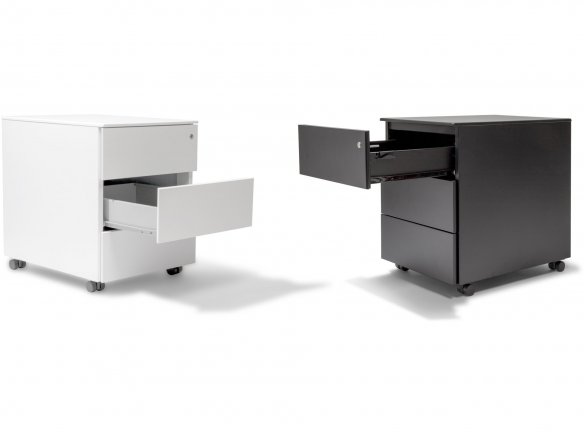 Lockable
Compact and stabile
Smooth-handling drawers
Good value for the money
Material

sheet metal from powder-coated steel

Size

422 x 535 x 542 mm (Width x Height x Depth)

Configuration

3 drawers and 4 wheels

Color

white or black
The very compact Roll-Around Cabinet made of powder-coated steel sheets has three large drawers in which all sorts of office supplies, correspondence, and important documents can be stored safely. The front of the drawers close flush with the cabinet walls and are only a few millimeters apart from each other. The wheels are almost invisible so the cabinet appears very flat and minimalist.
The drawers of the Modulor Roll-Around Cabinet can be opened quietly and smoothly. The subtle, streamlined recesses on the right and left of the drawers ensure quick and comfortable opening and closing.
Since most of our table-tops are made of powder-coated steel, the sturdy steel cabinet in black or white integrates perfectly with all Modulor table series.


Modulor rolling container, metal, lockable
2 Variants