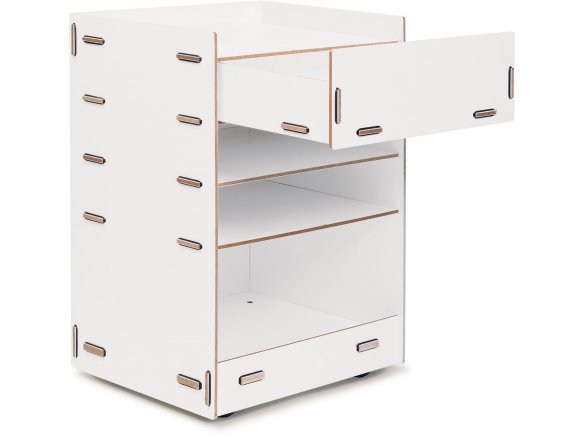 material

milled, laminated MDF coloured on both sides

equipment

4 plastic casters, assembly instructions

Dimensions

445 x 580 x 240 mm (width x height x depth)
Because there was such a positive response to our CHILDRENS ROLL-AROUND CABINET we decided to add an adult version with twice the capacity and matching features. The result is a cabinet that not has a stack of drawers but, like its little brother, has two smaller drawers next to a large one where, for example, DIN A3 paper can be kept. Instead of the pen compartments found on the 45 litre version, the 90 litre cabinet has a drawer and a large open chute on the top. The cabinet was designed so that it would fit under the E2 table frame but it can also be placed under other tables and from there rolled wherever you might want.
The cabinet is made out of bio-fibre panels that are colour coated on both sides with melamine resin. This is a wet process manufactured fibre panel (HDF). That particular manufacturing process is one that almost completely abstains from the use of synthetic resins (0 to 1%). So it is that the amount of formaldehyde found in the bio-fibre panels corresponds to the amount found in natural wood – a fact that means it can be used indoors without any need for concern. The individual components of the cabinet are not glued or screwed but rather put together with plug-in connections; i.e., a tenon (pin) is inserted into a mortise (slot) and then secured in place with an rubber 0-ring. This kind of joinery is, firstly, sturdy, secondly, quickly assembled and thirdly easily undone.
Modulor roll-around cabinets are disassembled when delivered. But don´t worry, assemby instructions are included!
Modulor roll-around cabinet 90 L, 445 x 580 x 340 mm, white