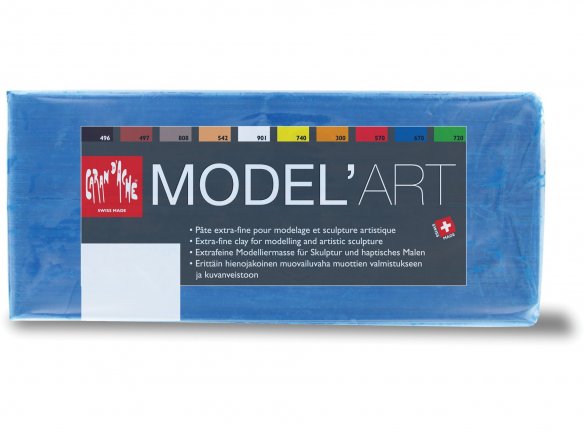 high quality thermoplastic "animation clay, thermostable up to bis 55 °C , water-resistant, lightfast, extra fine texture, conforms to the EU toy guidelines (DIN EN 71), comes in foil package
Friends of Czech animation films are familiar with Model'Art (previously Modela) in its moving form as an octopus on the second floor or as the street urchin Lucie. Model'Art is, namely, the modeling material that professional animation filmmakers use. Because it is relatively resistant to heat, it is able to withstand the hot film lights while at the same time it is easy to shape and does not stick to your fingers. In addition, it is made with high pigment dyes, which makes its colours very intense and (film) lightfast. (Voila, an animation clay is born!) Mixing the doughs can produce an almost unlimited number of colours – for large amounts a meat grinder can be used.
Of course, this plasticine clay is not only good for making animation films – it can just as well be used in architectural model making or used for therapeutic purposes. Model'Art is non-toxic by virtue of being made with natural mineral fillers and organic binding agents - it subsequently conforms to the European safety guidelines for toys.
Model'Art animation plasticine, coloured
10 Variants