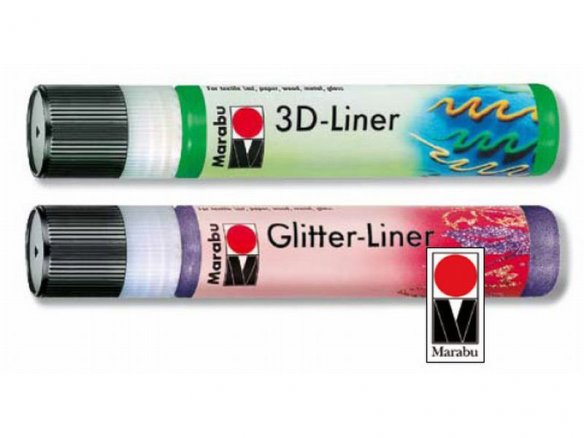 water-based paint, for diverse surfaces, washable up to 40 °C after being fixed (ironing or baking), round plastic container (liner pen), black cap
Marabu Effect Liners are versatile, water-based artist colours in fat pens that come in "super fluff" Glitter, Metallic or 3D versions and can be applied to paper, cardboard, wood, stone, terracotta and textiles. Any spots of the paint that land on your clothes must be washed out immediately with luke warm water and soap.
Before applying these Liners please make sure that the intended substrate is clean and dust-free. In the case of textiles, the finish coat and the softeners on the material must be washed out beforehand. The thicker the coat being applied, the more pronounced the effect will be. After drying, the paint can be fluffed up, or alternatively, fixed in an oven or with an iron - how this is best done is clearly described on the package. After fixing, the paint will be dry to the touch and resistant to moisture. An iron should be used to fix the Liner paints on textiles so that the artwork will be washable up to 40 °C (always turn inside out when washing or ironing!).
Marabu Effect Liners
32 Variants