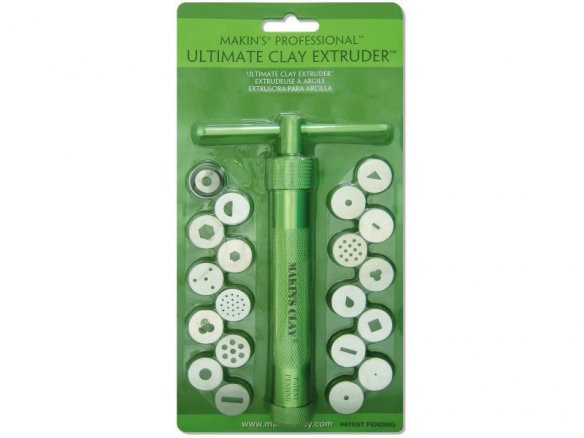 height when closed is ca. 165 mm, comes with 20 disc attachments, includes 1 replacement O-ring for the gun barrel
Even a complete novice can create precise shapes out of plasticine or clay or any other reasonably soft modeling material using the Makin´s Clay Extruder. Depending on the disc being used (there are twenty different ones!) you can make round, thick or rectangular cords of clay (that can be elongated), and so on.
In addition, this clay gun has the advantage over an injection type device in that it takes a lot less strength to produce a clay "sausage" - even children over 12 years of age can do it! This extruder, you see, functions like a vice and not like an air pump. In the case of this "screw pistol" you simply have to turn the T-shaped handle to press the clay out of the barrel. It is nonetheless important to note that the clay or other modeling material should be kneaded first by hand in order to warm it and soften it before filling the barrel! The barrel can then be filled continuously from both sides by unscrewing the removable caps at each end.
Makin´s Clay Extruder, with 20 motif sets