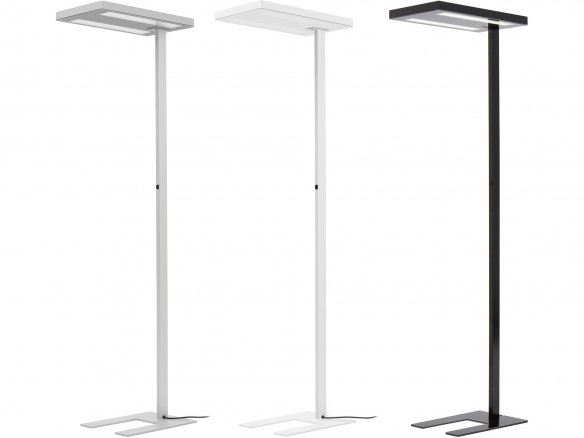 very powerful workplace lamp
Luminous flux of approx. 10,000 lumen
direct/indirect light distribution 30/70
dimmable
Material

aluminium, steel, plastic

Lamp head dimensions

40 x 320 x 575 mm

Stand dimensions

25 x 50 x 1850 mm

Base dimensions

10 x 324 x 450 mm

Lighting technology

LED, system power 117 W, light distribution direct/indirect 30/70, 10000 lumen, 4000 K, color rendering index (CRI) >80, life expectancy 50000 hrs., dimmable

Electrical components

digitally dimmable ballast unit; 3-pin pre-assembled 2.5 m cord with right angle schuko plug

Guarantee

5 years

Colours

white, black or aluminium grey

Accessories

size 2 and 4 hex keys NOT included

Design

Björn Siesjö
The Free LED office lamp from Glamox-Luxo is a high-performance office and desk lamp with intelligent light distribution and maximum flexibility. The lamp offers an attractive combination of direct and indirect light distribution. 30% of the luminance is thereby directed downwards while the other 70% shines upwards and serves to light up the whole room. This mixture of direct and indirect lighting is a particularly important basis for long and fatigue-free work. It is often the case that surrounding area that are thought unimportant, such as walls and shelf areas as well as the ceilings, are just the ones that are not adequately lighted with the result that indifferent lighting conditions are created. It is just these different luminances in a space that caused the iris of the eye to become tired more quickly because it must constantly fade in and dim out.
The large lumen output of 1000 lumen provides enough reserves to light even a medium-large room adequately. The 4000 Kelvin light colour means that it is neutral white which, in conjunction with a glare-free micro-prismatic diffuser and a continously adjustable dimmer, creates profession quality working conditions.
Our Free-LED version is equipped with state-of-the-art light emitting diodes (LED) and is guaranteed to provide a long service life. The diodes in the Free have a life expectancy of 50,000 hours. This means that when used normally it will last around 25 years or longer - you will probably never have to change the light source!
The Free-LED floor lamp comes in three different boxes and is easy to assemble. You will need two Allen keys sizes 2 and 4 - one to attach the base and the lighting head to the pole and the other connect the cord within the pole with the ports in the lighting head. The lamp can then be positioned anywhere you want in your office landscape. The U-shaped cutouts in the base allow the lamp to be placed directly on a table leg.
Luxo Free LED office lamp
3 Variants
Accessories and Related Products