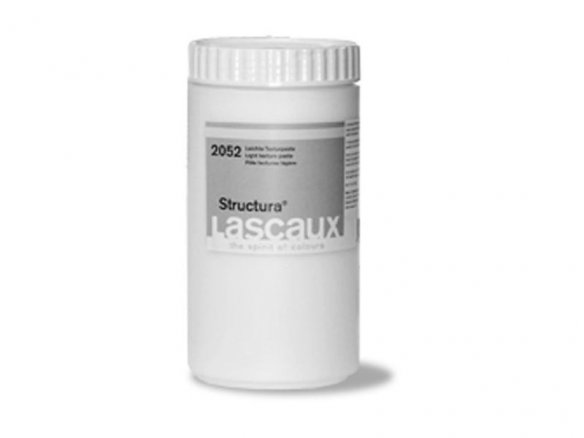 light texture paste for acrylic paints, pure acrylic dispersion with modified quartz fillers, fine grained, can be thinned with water, satin-matte and elastic-hard when dry, absorbent, can be sanded, age-resistant, lightfast (non-fading), can be mixed with acrylic paints, shelf-life when unopened: 4 years, physiologically and toxicologically safe
Lascaux Structura is a lightweight acrylic paste for creating textured surfaces for the purpose of painting on them as well as for making relief-like applications. Its light weight makes it particularly good for large area applications and collages. The white Structura Natural is a beautiful underground for transparent (glaze) painting (e.g. with LASCAUX STUDIO or SIRIUS ACRYLIC PAINTS), because the fine texture gives a special brilliance to the paint. For pastose painting with a brush or palette knife it can be mixed into an acrylic paint in order to give the paint more body - the colour hues will lighten only slightly in the process.
Structura can be applied in multiple layers in pure form or thinned with water. Very thick coats should be attained by applying a series of thin ones so as to shorten the time needed for drying. Extremely absorbent surfaces should first be insulated with LASCAUX ACRYLIC TRANSPARENT VARNISH or GESSO. The best sculptural effects are attained by applying this modeling paste in its unmixed form and then painting over it with acryic paint after it has dried.
Lascaux Structura modelling paste
3 Variants