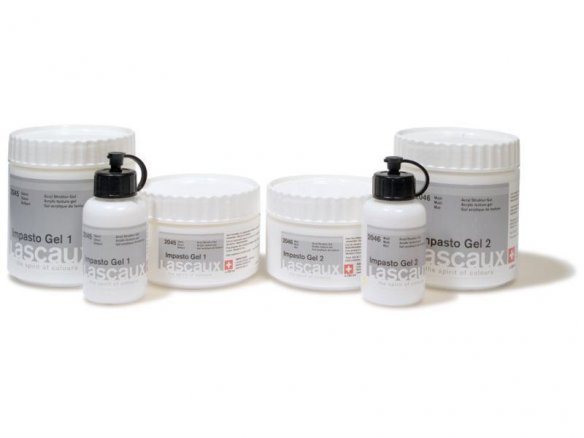 aid for obtaining texture in all Lascaux acrylic paints, pure acrylic dispersion, transparent or semi-transparent , colourless, pasty consistency , can be thinned with water, gel 1 and gel 2 intermixable, ductile and waterproof when dry, age-resistant, lightfast (non-fading); working temperature: at least +8 °C, shelf-life when unopened is 4 years, physiologically and toxicologically safe
Lascaux acrylic paints can increase their pasty consistency, i.e. be made more viscous, by mixing it with Impasto gel. This allows you to apply the paint in  thick, textured colour coats similar to the those of the impasto technique. The gels can be used pure as an underground, mixed with the acrylic paints or applied over the paint in order to achieve different textures and levels of glossiness. These flexible gels have excellent adhesive properties and will not crack even when applied in thick layers. When the gels are mixed into acrylic paints their drying times are prolonged, and their transparency and coverage yield is increased. The gels can be used as adhesives for collages and for embedding a variety of materials like pigments, dirt, sand, etc., or also as final tectural varnishes on finished work.
Whether undiluted or mixed, the gels can create textures whether applied with a brush or a palette knife. Extremely thick, clear and colourless coats of the gel (over 5 mm) will, under certain circumstances, take several days to become completely dry.
Impasto gel 1 increases the brilliance, glossiness and transparency of acrylic paints while the get 2 reduces the glossiness and transparency. Gel 1 and 2 can be mixed together for purposes of controlling the level of glossiness to your requirements.
Lascaux gel Impasto
6 Variants