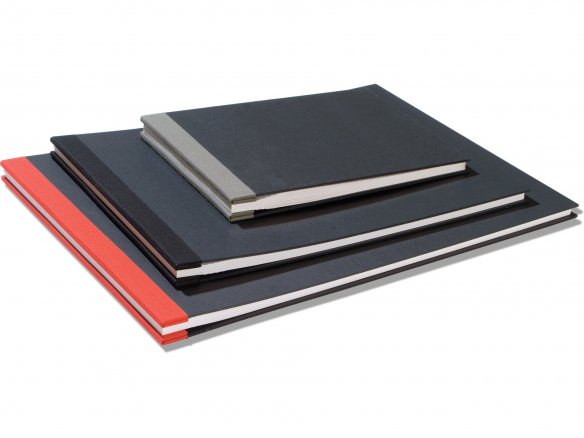 broad format, sturdy smooth black cardboard cover, coloured linen spine, 20 sheets or 40 pages of photo mounting board with 4 linear grooves, given dimensions: approximate
This hand produced book made from black cardboard and coloured cloth is a beautiful product for presentation purposes or for use as a photo album. The album can be expanded just about as much as you like with the refill pages for photo album. The longer bookbinding screws which will be necessary for any expansion can be found in our product line. In order to expand the album by 20 pages (therefore a total of 40 pages) you will need two 20 mm long bookbinding screws. Every subsequent expansion of 20 pages will require about 8-10 mm longer bookbinding screws.
Using photo mounting board, solid-fibre board bflack black, Filmoplast T and bookbinding screws, you can make your own similar album fairly easily because the work is pretty straight forward.
Hidden post photo album with cloth spine, white
3 Variants