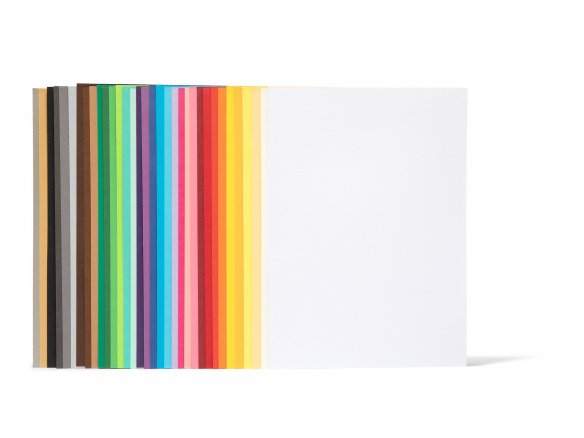 solid colour, acid-free, pH neutral, matte, made from waste paper, certified per DIN EN 71, Part 3, LGA (German product testing agency) and "Blauer Engel" (The Blue Angel is a German environmental institute)
This acid-free and pH neutral photo mounting board is dyed in the pulp stage of production and as a result will not bleed and is relatively lightfast as well (non-fading). Its matte and rough surface lends itself to laser and screen-printing. If you plan on using it with ink-jet or offset print, we recommend you do a trial run beforehand.
It is made with pre-consumer waste paper, i.e. paper that is left over from the production of other paper products. Because it is also dyed using an environmentally safe process, it has received the Blue Angel certification (the oldest and most well-known environmental certificate in the world!). This Römerturm photo mounting board is also tested and approved by the LGA, which means it is guaranteed that it satisfies the required quality standards (product attributes) as well as complies with all legal requirements regarding production, safety and environmental aspects. The board also complies with the requirements of the European toy safety norms concerning toxilogical dangers (DIN EN 71, Teil 3) and is therefore suitable for use by children.
This photo mounting board finds use in model making, decoration, book covering and greeting card creation. Handicrafts, including folding and drawing, are also distinct possibilities, in addition, of course, to its being used for making photograph albums. The list goes on and on!
Photo mounting board, coloured
102 Variants
210 mm x 297 mm
297 mm x 420 mm
700 mm x 1000 mm
Accessories and Related Products