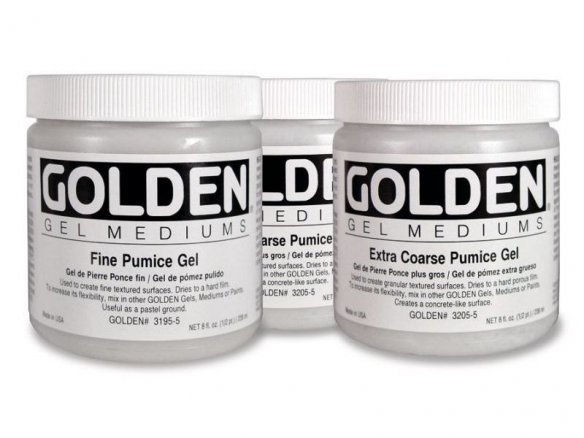 acrylic polymer binding agent with pumice added, water-based, pasty consistency, light grey and opaque, matte and rough when dry, absorbent, hard, miscible with acrylic paints and other gels and pastes and painting mediums, waterproof, lightfast, age-resistant
The three different versions of the Pumice gel have different granularity levels, from fine to extra coarse. All of them form hard, durable surfaces when dry.
The fine Pumice gel dries to a fine-grained, semi-matte surface that, for example, can serve as a primer coat for oil- and dry pastels as well as for oil crayons. The coarse and extra coarse Pumice gels produce correspondingly more coarse and grainy surfaces that give the impression of concrete.
All three of the gels are miscible with acrylic paints or you can mix in other Golden gels or painting mediums to increase flexibility. A very interesting effect can be achieved by using thinned acrylic paints for glazing work on the dry, grainy-rough and very absorbent surface of this gel. In addition, using the drybrush technique with very viscous paint also produces a great look.
Golden Pumice Gel
3 Variants