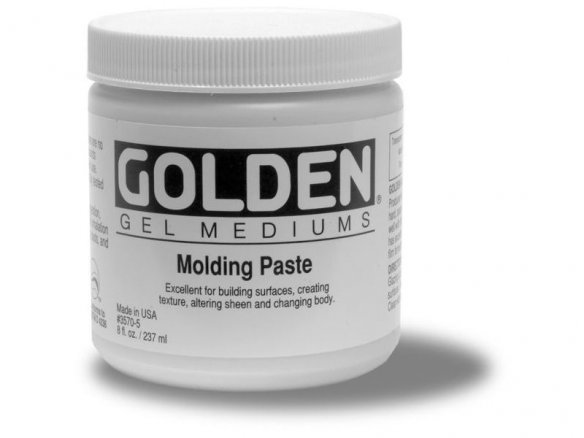 acrylic polymer binding agent with marble dust, water-based, very pasty consistency, white-grey and semi-glossy when dry, flexible, can be sanded, miscible with acrylic paints, other pastes, gels and painting mediums, waterproof, lightfast, age-resistant
Golden Molding paste has approximately the same consistency as the GOLDEN HEAVY GEL but is white-grey and opaque when dry by virtue of the marble dust that is part of its ingredients. The colours of acrylic paints mixed with Molding paste take on a more pastel type of appearance.
This paste can be used to make relief-like paint applications with a brush or palette knife and can form permanent textures. After drying, the surface is hard but nonetheless flexible. Golden Molding paste can be applied right out of the bottle to make a support primer that can be painted over with acrylic paint or it can be mixed into acrylic paints.
Suitable substrates include thick paper, tightly stretched canvas, or wood; thin paper and flexible materials will tend to warp to a great extent at the corners as a result of the the thick paste drying.
Golden Molding paste, 237 ml tub (3570)