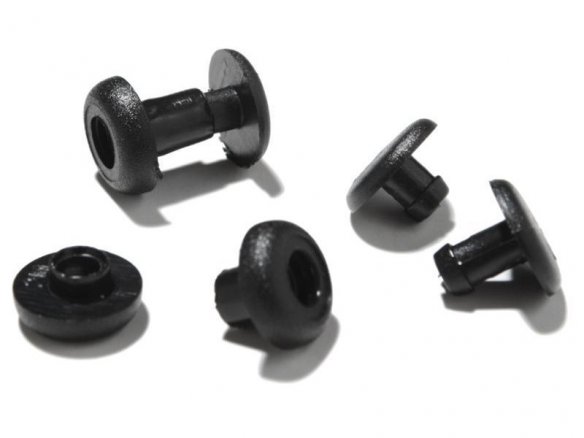 black, nylon, shaft diameter is 5.5 mm, head diameter is 12.0 mm, given length includes the head
These rivets, which are made out of the hard-wearing plastic PA 6.6, are able make lasting fastenings of the component parts of bags or backpacks as well as on BELTS or other materials. They fit tightly into the hole of a STANDARD HOLE PUNCH and can join layers up to 7.5 mm which means that they are also suitable for thicker materials like WOOL FELT. The two pieces of the rivet can be pressed together by hand or lightly and carefully pounded with a hammer.
With the aid of a very small PLIERS the rivets can be pulled apart again by squeezing the inner shaft together while at the same time pulling the head off. The rivets can withstand machine washing up to a temperature of 60 °C.
Fastening rivets, plastic
5 Variants