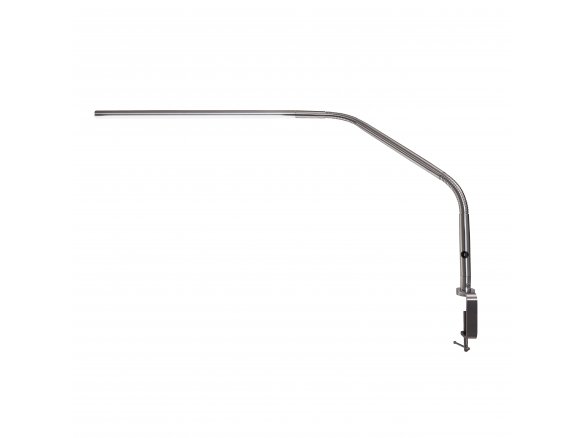 daylight 6000° Kelvin
minimised appearance
low energy usage
4 brightness levels
full length diffuser, shadow free
good colour reproduction
Lamp material

brushed stainless steel, with two gooseneck joints

Lamp size

total length: 850 mm; upper part is 480 mm, middle part is 250 mm; lower part with switch and cord is 120 mm, diameter is 20 mm

Table attachment

varnished metal table clamp for tabletop thicknesses up to 50 mm

Light type

swivel mounted and dimmable to four levels

Luminous flux

1065 lm (lumen)

Colour temperature

daylight, 6000 K (Kelvin)

Light intensity

3000 Lux at a range of 30 cm

Weight

1 kg

Cord length

2.4 m

Accessories

table base
The sleek design consisting of high quality stainless steel combined with a high degree of luminosity makes this lamp very impressive in many regards.
The daylight™ LED strips produce a really bright light despite drawing only 13 watts of power. When placed thirty centimeters above a work table these strips will give an amount of light comparable to two 100 watt bulbs. Because LEDs make efficient use of electricity and emit light without any loss and in one direction, considerably larger amounts of illumination can be created with considerably less voltage. Another related advantage of LEDs over conventional bulbs is the very low production of heat.
The 73 cm long, flexible arm and the evenly distributed lighting make this lamp ideal for large surfact areas. The LEDs, which have electronic colour correction, are able to render colours to a high degree of accuracy; this makes them great for viewing photographs or paintings. 
A beautiful matching table base can be ordered separately in order to allow the lamp to be used in different locations where a clamp might not be suitable
Daylight LED workplace lighting, 9 watt, (~ 200 Watt), stainless steel, brushed
Accessories and Related Products