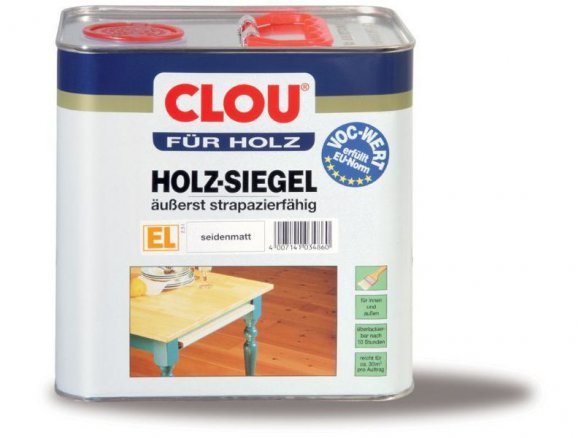 colourless and transparent, solvent that is free of aromatics. abrasion resistant, waterproof and resistant to oil, grease and alcohol, PVC stable; usage amount: 1litre for 12 m² per coat, conforms to the European norm 68861 1 B (chemical resistance on surfaces of furniture), flammable
The Clou wood sealer is a very durable wood varnish for highly demanding wood areas like stairs, floors (e.g. parquet and cork), tabletops, doors, and seating furniture (chairs!) that are used in covered outdoor areas. This colourless and transparent varnish can also be dyed by adding pigments (e.g. ARTIST PIGMENTS), whereby a transparent (glazed) colour is achieved, one that still allows the natural wood grain to be visible. Adding pigments also makes the varnish more resistant to UV exposure.
Application: The raw wood surface chosen for treatment should be sanded with 150 grit sandpaper (e.g. FINISHING PAPER, YELLOW) after which all dust must be removed (note: do not sand stained surfaces!). Areas selected for renewing should be cleaned with CLOU EV THINNER, sanded with 240 grit sandpaper and all dust removed. The sealer should be thinned up to 20% and applied as a primer coat. After being allowed to dry for 10 hours a second sanding (240 - 280 grit) should be undertaken, followed by another application of the sealer, this time thinned 10%. The treated surface will be ready for use after 8 days.
Tools are best cleaned immediately after use with CLOU EV THINNER.
Clou EL wood sealer
2 Variants