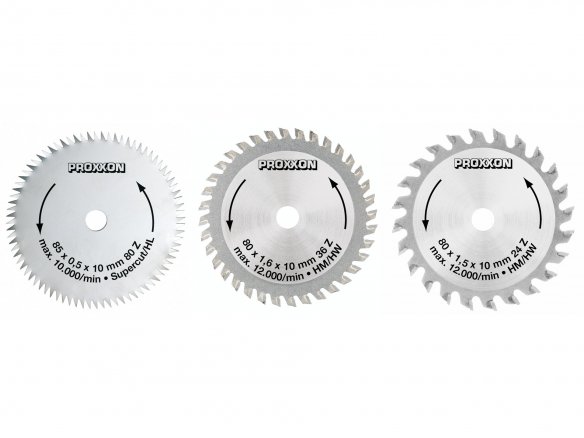 with bore hole diameter of 10 mm
Super-Cut circular saw blade: This blade is made out of chrome vanadium steel. The teeth of the Super-Cut saw blades are individually set and sharpened. Its special features include a high degree of cutting ability and a long service life.
lternating teeth design (ground and crosscut) provides a quick and clean cut on hard and soft woods as well as plastic. Approved maximum rotation speed: 10,000 rpms.
Tungsten Carbide Blade (24 teeth): The body of the blade is made out of solid steel. The carbide teeth are set in opposition.
This blade is especially good for working on difficult to cut materials like aluminium, hardwood, plywood, fibreboard and plastic. Approved maximum rotation speed is 12,000 rpms.
Tungsten Carbide Blade (36 teeth): The large number of teeth guarantee that this blade will produce extremely clean edges at its cuts when being applied to balsa wood, plywood, softwoods and GRP sheets. These saw blades can also be used to cut hardwood, polycarbonate, plastic and aluminium. Approved maximum rotation is 12,000 rpms.
Because the bore holes for mounting are always the same, the circular saw blades for the Proxxon circular saw KS 230 can also be used on the FET table saw and its former model with the designation FKS/E. It is true that when used on the FET model, the blades will only protrude about 5 cm past the saw table surface but this is still an excellent way to use a High Speed Steel blade to cut cardboard.
Blades for Proxxon circular table saws FET & FKS/E
3 Variants