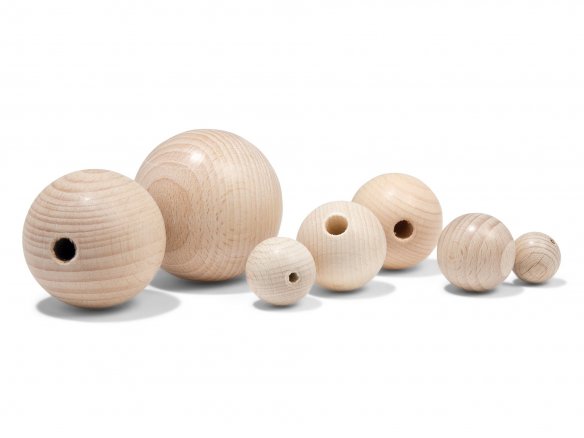 Measurements

ø ball x ø drill hole
The partially drilled wood balls with small diameters are primarily used as tree crowns in architectural models. They can be stuck on wire pieces made from spring steel as well as on round beech rods or toothpicks to complete the image.
The balls are made for us in diameters up to, and including, 30 mm. They are provided with relatively small drill holes so that a proportional relationship can be achieved between the "trunk" and the "crown".
In addition to such model making uses, the partially drilled balls are perfectly suitable for creating children's toys (magic wand, spearhead, mobiles, puppets, game figures…), for building molecular models in a scientific context, for furniture making (handles, knobs…) and much much more.
Beechwood ball, partially drilled, raw
11 Variants
6,00 mm
8,00 mm
10,00 mm
15,00 mm
20,00 mm
25,00 mm
30,00 mm
35,00 mm
40,00 mm
50,00 mm
60,00 mm
Note
The given measurements are "diameter of the ball x diameter of the drill hole".