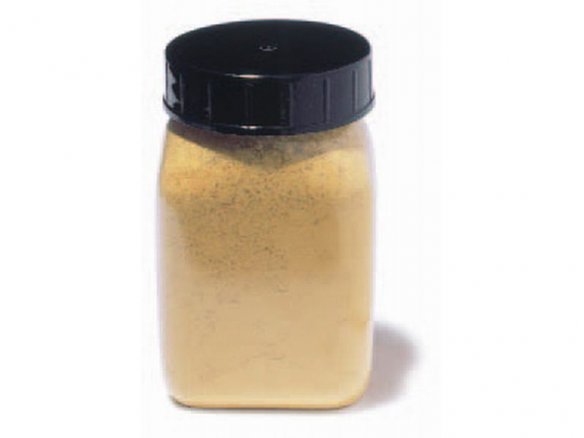 non-soluble colour powder made from organic or inorganic substances, very lightfast (see the numerical values), non-toxic, no hazardous label required by the German Hazardous Substance Ordinance
The pigments we carry at Modulor come in plastic containers. Each container contains 100 ml (NOT grams) of pigment, which means that the contents of the containers have different weights and different yields depending on the pigment. This difference, as well as differences in production expenses in making the pigments, accounts for the differences in price for the various containers. The number given in parenthesis refers to the lightfastness (non-fading qualities) of the pigments (wool scale: 1 = hardly lightfast, 10 = very lightfast). In accordance with the demands on paints for modern artists, the number usually falls somewhere around a 7 or an 8.
In addition to pigments, BINDING AGENTS like LINSEED OIL VARNISH and CAPAROL ACRYLIC BINDER are also required for making paints. The pigments are stirred or rasped with a PIGMENT SPATULA into the binding agent in amounts determined by the desired intensity of colour.
Using the pigments in combination with a solvent or a binding agent (ACETONE, TERPENTINE SUBSTITUTE, LINSEED OIL VARNISH) allows you to apply them to architectural drawings such as blueprints, including on such materials as transparent paper and other types of normal paper. As is the case with the production process for making paint, the pigments are stirred or rasped into a solvent or binding agent and the resulting paste applied with a rag or a brush. In order to avoid smudging the drawing you are working on and to make sure the paint only ends up at the desired places, you should first glue some TEMPLATE FILM over the areas that need protection.
The same mixture can be used to paint on even more materials like, for example, cardboard, sanded Plexiglas or other matte plastic films. A BRUSH or a foam roller should be use for application purposes. Pigments that have been mixed into linseed oil varnish make the best medium for applying dark colours to paperboards and cardboards.
In order to colour-finish a model, pigments are added to the PLASTER in amounts necessary for achieving the desired colour. If CAPAROL is also added to the mixture, the plaster will not cure as fast and its finish will be more glossy (this process can be used as a way to represent water-filled areas in model making).
Artist pigments
29 Variants