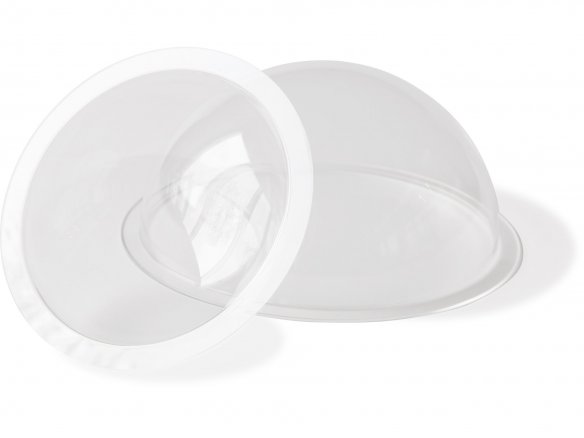 available in 9 different sizes
crystal clear transparent dome
protects your products and displays
UV-resistant for outdoor use
material

acrylic XT glass

Brim

circumferentially machined 15-20 mm

Strength

given thickness = initial thickness
These hemispheres made from blown acrylic glass cost more that those made from PVC but are also streak-free as well as harder and more durable. Because the hemispheres are free blown their shape is not really exact. (Their height is slightly smaller than their radius). This becomes more obvious when you try to create a whole sphere from the two halves. The bottom ridge of the hemisphere has a 30 (up to ø 600 mm) resp. 50 mm (from ø 700 mm) wide brim.
The wall thickness of the domes is not even as a result of their formation: the brim has the thickness of the basic material while at the peak the thickness is about 1 mm more. Drilling of, for example, the brim of the sphere is very difficult, if not impossible, because the shaped material is basically high stress and therefore very likely to splinter.
Acrylic glass hemisphere, transparent, hollow
9 Variants
200,00 mm
300,00 mm
400,00 mm
500,00 mm
600,00 mm
700,00 mm
800,00 mm
900,00 mm
1.000,00 mm
Note
Please note that we can only ship large quantities of this article as well as acrylic glass hemisphere larger than a diameter of 700 mm per forwarding agency which means that there are higher shipping and handling costs.
Accessories and Related Products