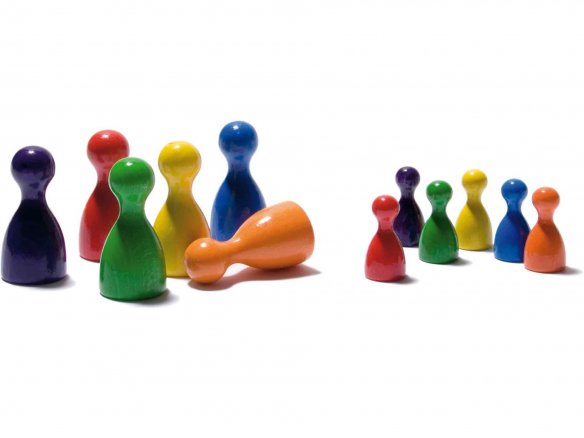 made from European woods, glossy paint: red, orange, yellow, green, blue, violet ((free of heavy metals, sweat and saliva resistant, the paints conform to the German Food and Commodities Law – see Information), come in PP film bag
After the classic game piece made from painted wood has in the meantime almost completely disappeared from the market and even the reproduced editions of the German game "Mensch ärgere dich nicht" ("Frustration" in America, "Ludo" in England) comes only with plastic pieces, a rebirth is now at hand: the classic game piece with its graceful shape which not only feels great in your hand but pleases the eye as well.
As is the case with our wood beads, these painted pieces, which are made from European woods, are produced in Germany and are made exclusively with paints that conform to the German Food and Commodities Law (LMBG). Because one of the things that this law prescribes is which attributes are allowed for objects that come into direct contact with foodstuffs – and these regulations are much stricter than those covering toys – these game pieces are perfectly safe in children's hands or mouths but should definitely not be swallowed!

Wooden game pieces, coloured
2 Variants