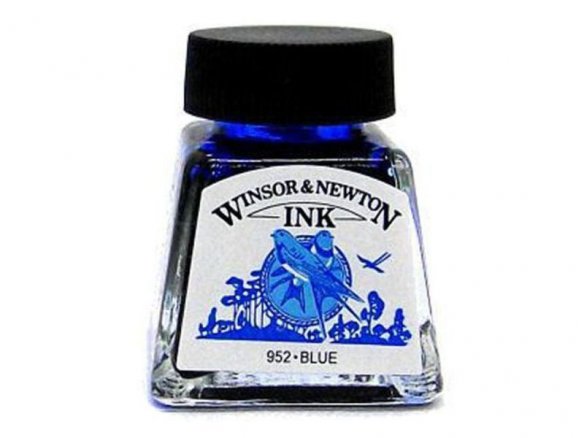 writing and drawing ink for nibs, brushes, airbrush (not for fountain pens!), made of soluble dyestoffs and shellac or pigment based (black and white only), transparent (except for black, white, silver and gold), fast drying, can be thinned with water, can be intermixed, not lightfast (non-fading) except for black, white, silver and gold
Winsor & Newton drawing ink is suitable for use with dip pens and brushes for writing or drawing as well as for use with airbrushes. It should not be used in fountain pens because the shellac binding agent will clog the nib. This tradition-rich ink has been produced by Winsor & Newton since 1890 and has enjoyed great success with illustrators, graphic artists and calligraphers because of the great luminosity and transparency of its colours.
The 22 "colourful" inks among the total of 26 colours are transparent and waterproof when dry and can therefore by applied over each other (overlaid) in order to achieve optically attractive colour mixtures. These inks are not lightfast (non-fading). Exhibited work should therefore not be exposed to bright light and should be presented under UV protection glass. The colours white, black, gold and silver are, on the other hand, opaque and lightfast; gold and silver are, it should be noted, not waterproof.
The special Liquid Indian Ink is an aqueous solution of traditional Chinese stick ink that was originally pressed into a stick form and only dissolved into water right before its use. This non-waterproof, very fluid ink is the choice of calligraphers for writing purposes. China ink is often also called Indian ink because the resin secreted by the lac bug, from which the binding agent shellac is derived, originally came from the Punjab in India.
The inks can be thinned with water without any problems if you need to lower the intensity of an ink´s colour or to increase its transparency. The water used for thinning purposes must be distilled because tap water will cause the dyes to precipitate out of the binding agent. When being used in an airbrush distilled water MUST be used for any thinning, no ifs ands or buts!
All the inks are intermixable. In order to avoid too much thickening when adding gold or silver to other colours, only a small amount should be added. Mixtures of gold and silver should not be stored because unwanted chemical reactions can occur.
In order to draw and write with ink you will need paper or paperboard with a smooth surface so that the nib can glide smoothly over it. Paper that has both internal sizing and surface (tub) sizing is recommended because it prevents the ink from bleeding and increases the brightness of the colours being used. A soft paper or one with a rough surface can tend to puff up whereby the nib will get stuck especially when making quick strokes. Drawing inks are very often also used on ACETATE FILM. In this case, however, preliminary trials are necessary in order to be certain that the ink will be absorbed. Among the types of paper that are great for use with ink and nibs are ELEPHANT HIDE, the HAHNEMÜHLE PEN AND INK DRAWING PAD or the satined paper found in the CLAIREFONTAINE writing pads and notebooks.
Winsor & Newton drawing ink
26 Variants