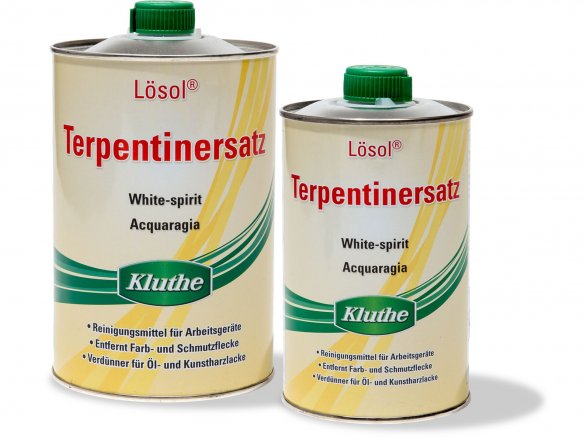 Description
Hazard warnings
White spirit is good for use as a cleaning agent for tools as well as for thinning synthetic resin paints, clear varnishes, wood stains, oil paints, rust protection paints, precoat paints and many more. The long evaporation time allows the paint to spread very well. White spirit evaporates without leaving any residue.
By using white spirit and PIGMENTS, drawings and designs can be dyed onto transparent paper, opaque paper, cardboard, plywoods and even matte-finished plastic films. How this is done with the help of solvents can be found under the heading "Paints, Aids, Chemicals" where the sub-heading "Information about Paints, Aids, Chemicals" should be consulted (not yet in English).
Danger, KOHLENWASSERSTOFFE, C9-C10, N-ALKANE, ISO-ALKANE, CYCLISCHE VERBINDUNGEN, < 2% AROMATEN = ≥ 75 - < 100 %, KOHLENWASSERSTOFFE, C9, AROMATEN = ≥ 20 - < 25 %, (VOC-Gehalt = 100,0 Gew-%), Aquatic Chronic 3 ; H412 - Gewässergefährdend : Kategorie 3, Asp. Tox. 1 ; H304 - Aspirationsgefahr : Kategorie 1, Flam. Liq. 3 ; H226 - Entzündbare Flüssigkeiten : Kategorie 3, STOT SE 3 ; H335 - Spezifische Zielorgan-Toxizität bei einmaliger Exposition : Kategorie 3
Hazard warnings
EUH066: Repeated exposure may cause skin dryness or cracking.
H226: Flammable liquid and vapour.
H304: May be fatal if swallowed and enters airways.
H335: May cause respiratory irritation.
H336: May cause drowsiness or dizziness.
H412: Harmful to aquatic life with long lasting effects.
Safety instructions
P101: If medical advice is needed, have product container or label at hand.
P102: Keep out of reach of children.
P280: Wear protective gloves / protective clothing / eye protection / face protection.
P303+P361+P353: IF ON SKIN (or hair): Take off immediately all contaminated clothing. Rinse skin with water [or shower].
P405: Store locked up.
P501: Dispose of contents / container to …
Downloads
White spirit
2 Variants
Note
White spirit is harmful to your health and environmentally hazardous – please take note of the safety instructions and security recommendations on the package. We will be glad to send you a safety data sheet upon request.