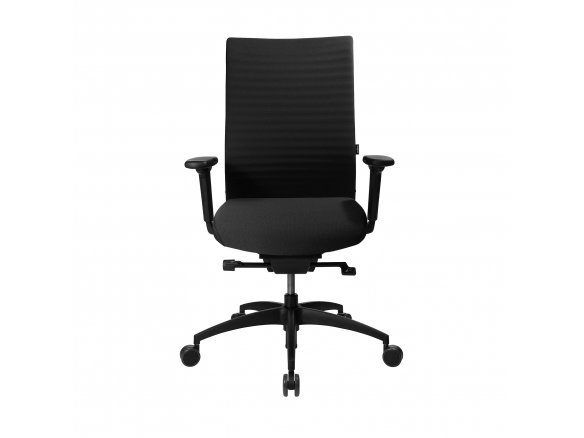 Patented 3D seat mechanism Dondola
Active sitting in all directions
Extra high backrest
Comfortable and breathable mesh cover
Ergonomically shaped comfort seat
High quality - Made in Germany
Total height of chair

1040- 1170 mm

Seat

Ergonomically shaped trough seat with integrated seat depth and seat tilt adjustment

Seat height

430-520 mm

Seat depth

460-510 mm

Seat width

480 mm

Base

5-legged, ø 700 mm, black, safety double castors for soft floors

Mechanics

Point synchronous mechanism with spring force adjustment, as well as 3D seat mechanism Dondola (fully cardanic bearing of the chair shell allows movements in all directions)

Backrest

Embossed, upholstered fabric cover with black mesh backrest cover for stabilization, height adjustable via ratchet mechanism

Backrest height

610-650 mm

Armrests

Height, depth and width adjustable (via clip closure) with soft padded armrests

Weight

Approx. 18 kg

Warranty

5 years
The Wagner swivel chair Ergo-Medic 100-3-3D combines high seating comfort and individual adjustability with a 3D chair mechanism that allows you to sit actively in all directions.
The worldwide patented, three-dimensional Dondola seat joint of the work chair loosens the rigid connection between seat shell and chair base by allowing it to follow your movements while sitting in any direction. This prevents a sitting posture that remains unchanged for hours and promotes a dynamic and muscle-activating sitting posture.
At the same time, you sit extremely comfortable and airy with the ergonomically shaped trough seat and the especially high, ribbed and net-covered backrest. To ensure that everything fits properly, you can of course also individually adjust the seat depth and inclination, the height of the backrest and the armrests of the Ergo-Medic office chair. If you lean back and relax while working, the seat moves synchronously with the backrest at the correct angle thanks to the individually adjustable point synchronous mechanism. This way, your back always remains optimally supported.
Good to know: Wagner grants a 10-year availability guarantee for the Ergo-Medic with all the corresponding spare parts.
Wagner swivel chair, Ergo-Medic 100-3-3D, 430-520 x 480 x 470 x 700 mm, with armrests, black