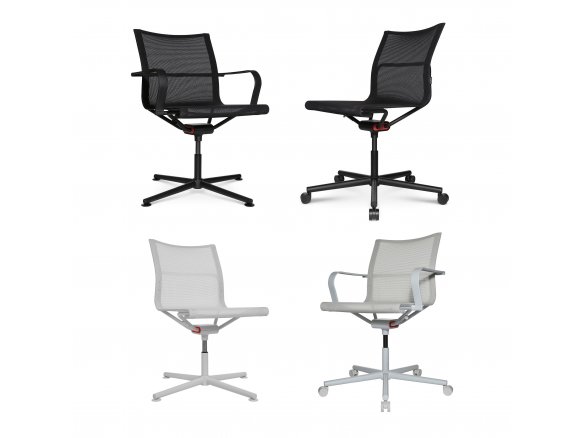 Active sitting in all directions
Advanced Dondola seat mechanism
Light, minimalist design
High Quality – Made in Germany
Desk and conference chair
Total height of chair

830 - 930 mm

Seat height

420 - 520 mm

Seat depth

380 mm

Seat width

500 mm

Backrest height

410 mm

Material

powder-coated steel frame, seat cover made of mesh fabric

Base

770 mm diameter, aluminum (powder-coated), castors or gliders for soft floors, optional castors for hard floors

4D Dondola seat mechanism

The mounting of the shell of the chair allows movement in all directions as well as separate tilting movements of the seat and backrest

Height adjustment

invisible via Bowden cable through the Dondola mechanism

Load

Up to 110 kg max.

Warranty

5 years
Stay in motion - even while sitting. Wobbling is expressly allowed with the Wagner D1 swivel office chair and its slightly lowered colleague, D1 low. And this in all directions: Because the innovative, three-dimensional seat hinge of the work chair solves the rigid connection between the seat and the chair base, it can follow your natural movements when sitting in any direction.
And it even goes into the fourth dimension: Due to the clever 4-axis anchor of the tubular steel frame in the Dondola seat hinge, the opening angle between the seat and backrest is also movable. In the D1 chair, you are sitting maximally dynamic and activating micro movements your muscles. By tensing and relaxing in movement, your back is relieved and strengthened in the long term.
For the chair brand Wagner, designer Stefan Diez has turned so much innovative technology into anything but an overloaded chair machine. D1 is light and graceful thanks to the mesh fabric-covered tubular steel frame.
The choice is yours: With armrests and castors, everything is on the D1 for a desk chair. Without armrests and with foot glides, the chair brings more movement into your meeting room. For hard floors, we also offer the castors in rubber.
Wagner D1 swivel chair, office, 420-520x500x930mm, with armrests, castors, black
9 Variants