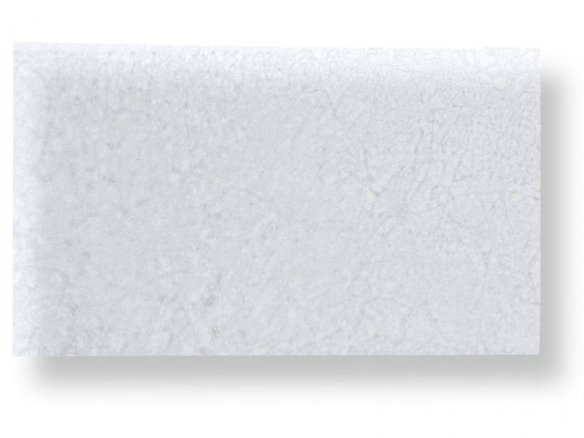 extremely thin, double-sided adhesive non-woven fabric with paper backing, both side can be ironed on, 100% polyamide, machine washable to 60 °C or dry clean
Application: Vliesofix is a non-woven fabric with the feature that both sides can be ironed onto a material. It is extremely thin and makes possible the fast and simple mating of fabrics. It is especially useful when working with appliqués and when making iron-on patches. In principle, iron-on Vliesofix interfacing functions like a double-sided adhesive film with which a material is coated by means of ironing and the coating then allows it to be affixed to a substrate. This non-woven interfacing can be used to coat practically any textile, felt or bast fibre materials and, at low temperatures, leather as well. Fabric coated over with Vliesofix can also be affixed to solid materials like wood or cardboard.
Method of use: First draw the motif on the smooth (paper) side of the Vliesofix and then cut it out roughly. Place with the rough side on the back side of your fabric. Press for 5 seconds without steam (iron setting: Wool). Now you can cut the motif out precisely and remove the tracing paper. With the coated side down, place it in the desired position on your intended fabric. After covering it with a damp cloth, lightly iron each area for about 10 seconds (iron setting: Wool / Cotton). Allow the pieces to cool while lying flat for about 20 minutes, so that the adhesive can set properly. As a final step, zigzag stitches can be made around the edges of your motif (if necessary, STITCH-N-TEAR interfacing can be placed underneath). In the case of frayed edges, a zigzag stitch must indeed be made along the border!
We strongly recommend that you attach a small piece of interfacing to a fabric remnant with your iron first to make sure that the hold and the adhesion meet your expectations.
Vlieseline iron-on Vliesofix (appliqué), w = 900 mm, transparent, colourless
Note
Minimum order amount for products from rolls is 0.5 running metre