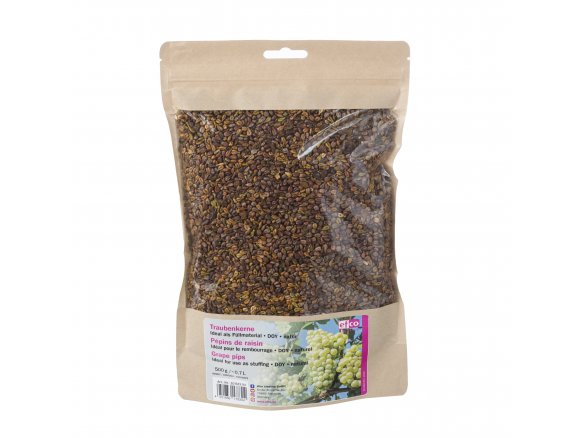 For warm and cold pillows
Long heat storage
For very supple fillings
Material

seeds of grapes, containing oil

Core size

approx. 4–5 mm

Properties

fine-grained, air-permeable, very cuddly, temperature-regulating, long heat storage, low-noise, not washable

Use

heat and cold pillows, neck pads

Recommended filling quantity cushion

250 x 250 mm = approx. 750 g

Important

microwave max. 600 W, oven 100 ° C, check temperature first after heating (risk of burns)
Grape seeds fall when grapes are pressed after the grape harvest. How nice, because this way we can still use these small temperature stores to fill hot and cold cushions. Due to their small core size, grape seeds are much more supple than cherry stones and because of their oil content, grape seeds maintain warmth for longer.
A small grape seed pillow as a heating pad is a light alternative to the hot water bottle, especially for children, but it also helps us adults with joint pain, abdominal cramps, and tension.
Grape seeds are not washable because they give off dyes in contact with water and stain the fabric of your pillow. In order to wash the cushion cover regularly, we therefore recommend that you put the cores in a separate, removable inlet (e.g., made of robust cotton nettle). You can also remove this from the outer cushion cover to warm the grape seeds. If you want to heat the cover in the microwave, it must not have a heat-sensitive closure, such as a zipper or buttons.
Grapeseed, dark brown, PE-bag, 500 g (ca. 0,7 l)