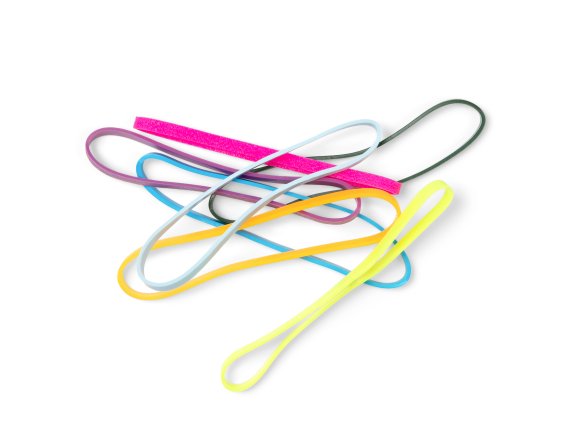 material

coloured TPE S

Material strength

unstretched approx. 0.8 mm
It is not easy to find a rubber band that is both practical and decorative, a rubber band that isn't the usual dull red or maybe white or skin colour but rather one that really jumps out at you. One could, we suppose, point to the rubber X-bands or the Rondella rubber bands. But these TPE rubber bands are in another league – different widths, really strong colours (or colourless transparent, which is really a rare occurrence in the rubber band world), but most especially the fact that there are finally really different colours available and they have a good elasticity.
The TPE (thermoplastic elastomer) used in our bands is particularly UV stable. They are also water repellent and resistant to most chemicals – they are just plain robust in practically every regard. And they look good, to boot – they can be used to span, bundle, enclose, pack but also as a decorative material or for setting accents.
The assorted pack contains rubber bands in different colours in the given lengths and widths. We can´t really give any information as to the make-up of each assortment because it is a result of pure chance!
TPE rubber bands
132 Variants
Note
We are the sales representative in the German-speaking marketplace for this product's manufacturer and are therefore ready to deal with any further needs you might have regarding different widths, thicknesses and colours. Minimum order amount is 10000 pieces.

Please note that the length (app. +/- 15%) and the colours can vary from order to order.