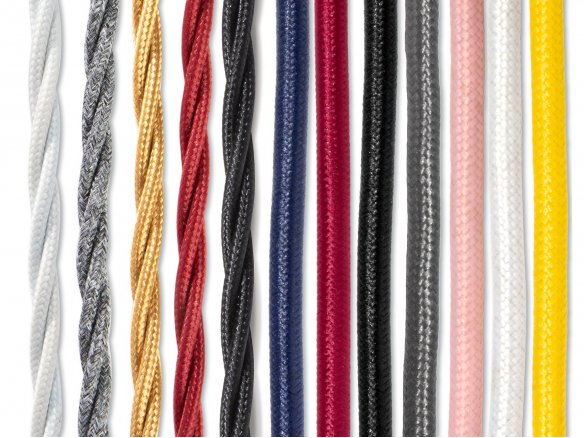 Outer casing material

bobbin lace outer cloth material (usually made of polyester yarn unless otherwise stated in the name or description)

Insulating cover material

synthetic rubber or PVC

Rated voltage U0/U

300/500V

Scope

designed for interior use
These colourful cloth-covered electrical cables turn what is basically a commonplace and unsightly electric cord into an object that does not need to be hidden from view – quite the contrary! The really smooth sheath of this cable is made of woven polyester yarn that is robust while at the same time colourful and eye-catching; the cloth used as the covering for some of the electrical cables that we have on offer is cotton. When assembling the cable for use, it should be noted that when capping the cable the fabric ends will tend to unravel. For this reason, the ends should be secured with insulating tape or heat shrinkable tubing before any fraying can take place.
The cords are three-cored, which means in addition to the plus and minus wires or, alternatively, phase and neutral conductors (brown and blue), there is also a yellow-green earth (ground) wire that should only be attached when being connected to metal holders, fittings or sockets. In the case of porcelain, and all other types of electrical fittings, the earth wire can be left unattached. The flexible wires with stripped insulation should be fitted with wire end ferrules so that they can be attached to screw terminals without breaking off the individual wires.
Textile cable, round
31 Variants